The tournament brought together the national teams of Austria, Hungary, Slovenia and Croatia from December 27 to 30 in Maribor. The selector of the women's volleyball team, Saša Ivanišević, pointed out: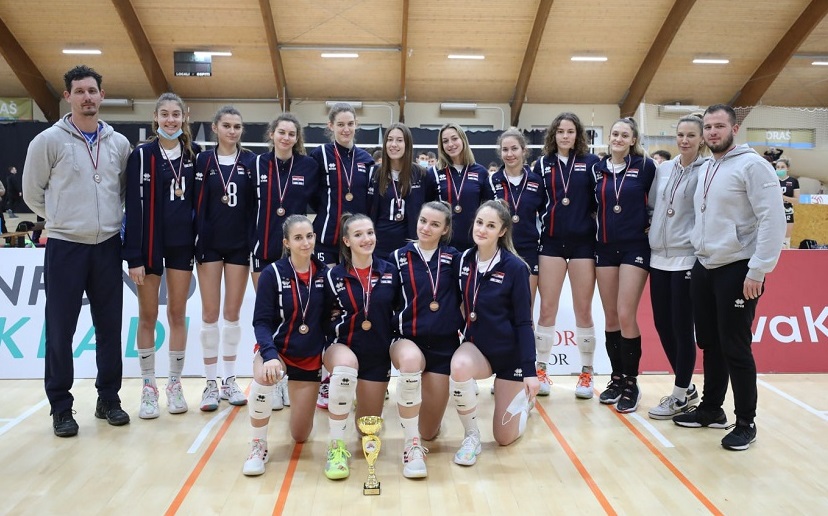 "I would like to praise the engagement of the girls, which was at a high level from the first to the last day. In my opinion, the team should have played in the finals, and I think we would be a great match for Slovenia. The semi-final match lacked fitness and mental strength. I'm sorry for the girls because we deserved the finals, but we certainly made good use of this tournament to see the mistakes and be even better, especially in the extra qualifiers in April. This is a beautiful generation with a bright future ahead. "
At the MEVZA tournament, the following players played: Petra Brkičić, Ana Burilović, Ivana Ćubelić, Tia Kovčo, Kate Lijić, Bianka Ksenia Listes Lulić, Aurora Papac, Matea Smoljan, Marija Tabak, Korina Topić, Viktoria Ana Trcol, Taisa Weinand and Ena Zajec. The professional staff consists of selector Saša Ivanišević, scout Vladimir Jolić, team manager Iva Bule and physiotherapist Luka Penga.
The volleyball players of the U20 national team in Maribor played with the same national teams as the women volleyball players.
"I am very happy with the tournament. The team showed exceptional character because it was really not easy to get up after losing the game with Austria. There is always room for improvement, so we must strive to be even better and of better quality. This team has great potential and needs to be watched closely through their careers so one day they could reach the senior national team. I congratulate them on their fighting spirit and result. "– said the coach of the men's U20 national team, Tomislav Ćošković.
At the MEVZA tournament the following players played: Bruno Barać, Luka Buljat, Maro Busak Vidaković, Gabriel Cvanciger, Duje Cvijović, Tin Devald, Nikola Jureta, Mislav Karačić, Matija Klasnić, Lovro Koprek, Ante Kulušić, Ivan Kuruc, Lovro Maglica, Jakov Marković, Ivo Mustapić, Marko Repek and Roko Vlasić. The professional staff consists of coach Tomislav Ćošković, assistant coach Nikola Sabolić, team manager Iva Bule, scout Marko Lončar and physiotherapist Luka Penga.
The MEVZA tournament, which represents the regional body of Central European volleyball, produced the best players of each national team, so Tia Kovčo from OK Split was named MVP of the Croatian women's team, while Nikola Jureta from OK Ribola Kaštela won the men's national team title.