Almost one month after the passing away of a former President, Mr. Ante Baković, who unfortunately lost his life battle with a fatal disease on January 6 this year, the Croatian Volleyball Federation held a General Assembly, where the new Federation President has been elected.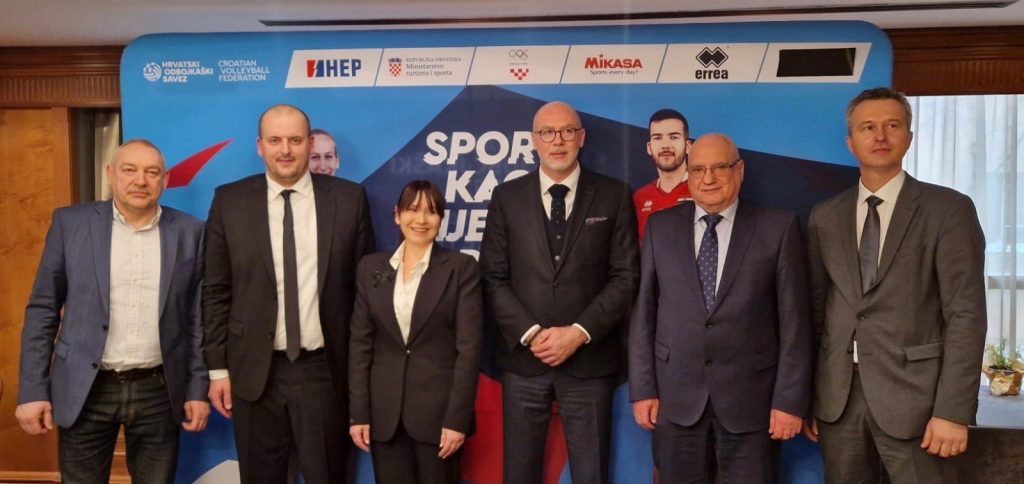 By the unanimous decision of the General Assembly members, the successor of Ante Baković until the end of his mandate has been elected Mr. Frane Žanić, the Federation's Expert Secretary in the past several years, former national team player and coach.
"This entire situation has shaken the entire Croatian volleyball community. Nobody has expected it. Ante Baković as a person, leader and boss will be very hardly replaced. He was not only important for Croatian volleyball, but for Croatian sport in general as well as the whole Croatian political scene. Ante was a great visionary, always ahead of everyone. What I want and what is my goal is to continue in his footsteps, on the way that him, Director Valentina Bifflin and myself have started several years ago as a harmonious team. All projects that we started together are to be realized and continued in the future," says the new CVF President, Frane Žanić.
During the past month, the CVF team has very quickly managed to reorganize and team up, just as real sports players, and have during the same period even hosted, organized, and completed several significant competitions. U17 women's team has directly qualified for CEV U17 European Championship, the men's team has qualified for the second qualification round, and CVF has successfully organized National Junior Championship.
"We want to keep the continuity and stability of national teams, because, without the result of the national teams, the sports visibility does not exist. Our women's Junior team is presently no.4 ranked in Europe, U17 women's team is ranked 7th in Europe. Both senior teams are qualified to Eurovolley 2023, and the senior women's team will participate in VNL 2023. Maintaining stability continues to be our priority, through a professional approach to work with players of all our national teams", continues President Žanić
This summer will again be very demanding for the entire Croatian Volleyball Federation, with again a lot of big competitions ahead. Senior women's team is expecting its debut in VNL, and together with men's team participation in Eurovolley 2023. The men's team is to participate in Golden League and host its opponents in GEL Final Four in Zadar. Together with the National Federation of Hungary, we are co-hosting the U19 World Championship in Osijek, while the U17 team will join the best at this year's edition of the CEV U17 European Championship. The same remains to be a wish for the men's U17 team, which still has to fight for its position through the second qualification round.
"I would like to thank our Board of Administration and Supervisory Board for and unconditional support of this Presidential candidature, from the very first day. I know that for this entire period ahead I will have to carry one heavy burden but am well aware that my position is not to compare to Ante, who made so many good decisions in Croatian volleyball and has been indebted entire Croatian sports community. Considering that for several years I have been, together with our Director Bifflin, one of the two main operatives in the Federation, I am very familiar with the entire scope ahead of us. In this short time, we will have to upgrade our in-house capacities in a way as always before, respecting our best former players for the positions within the Federation, such are Katarine Barun, Vesna Jelić, Iva Bule and Željko Nojić", says at the end new President Žanić, who will continue on his position of sports director in MEVZA, where Valentina Bifflin is the President. All Board of Administration members will remain the same, as well as the members of all working groups and bodies, as this is also in one way, as points out Žanić, »showing respect to Ante Baković, who elected these people into his team," CVF first Vice President remains Mr. Petar Sprčić, together with two Vice Presidents Josip Škorić i Vlado Bagarić.