The first round of the current season in the Russian Men's Volleyball Championship in 2023 was favorable for the leaders, Zenit Saint Petersburg.
Zenit St. Petersburg won the first half of the regular season in the 2022–23 PARI Superliga for men (2022–23 PARI Суперлига мужчины) undefeated, with 15 victories in 15 games and only one point left (on the road). Only Italy's Sir Safety Susa Perugia can boast such a run in the main national championships. The team commanded by Andrey Tolochko triumphantly 'graduated' as Russia's winter champions, also winning the last match of the first part of the current league season 3-0 on the Ural's court.
Zenit's but also the match's top scorer was Egor Kliuka with 14 points. Maksim Kosmin made four blocks. Evgeniy Rybakov scored 11 points for Ural.
2022-23 PARI Superliga for men, regular season, Round 15: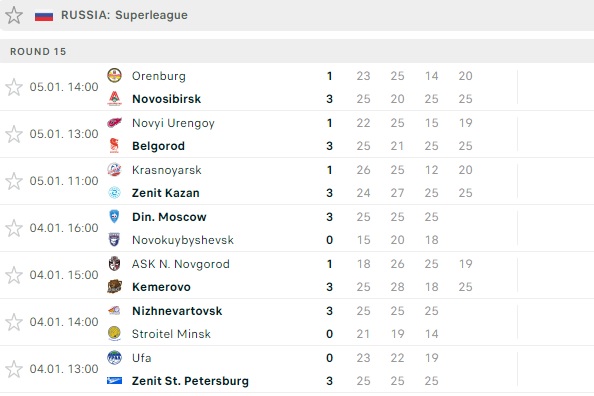 December 21:
Gazprom-Yugra – Dinamo-LO 2-3 (29-27, 25-19, 13-25, 17-25, 11-15)