Halkbank remained untouchable in the 2021/22 Turkish Men's Volleyball Championship even after 21 matches.
In Round 21 of the 2021/22 AXA Sigorta Efeler Ligi, Halkbank beat titleholders Ziraat Bankkart in the 'bankalar derbisi' (the bank's derby – both teams are owned and got their names by banking companies) with a score of 3-1 (25-18, 25-19, 18-25, 25-18) and remained undefeated in the competition (21-0). What's more, the Ankara side has 12 points more than the closest followers, Fenerbahçe HDI Sigorta and Ziraat (60-48). And, given that 5 rounds remained in the regular season, Halkbank is one step away from securing the No.1 for playoffs.
Argentine Nicolás Bruno and Cuban Fernando Hernández tallied 14 points each for Halkbank. The former had 79% reception (14 digs, 57% perfect) and 71% attack (12/17).  
2021/22 AXA Sigorta Efeler Ligi – regular season, Round 21: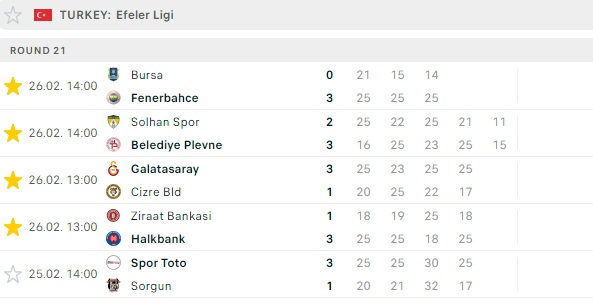 February 27
Yeni Kızıltepe Spor – Arkas Spor
February 28
Altekma – Avşar Maden Suyu Afyon Bld. Yüntaş