Sesi-SP beat Vôlei Funvic Natal and joined Sada Cruzeiro at the top of the table of the 2021/22 Brazilian Men's Volleyball Championship.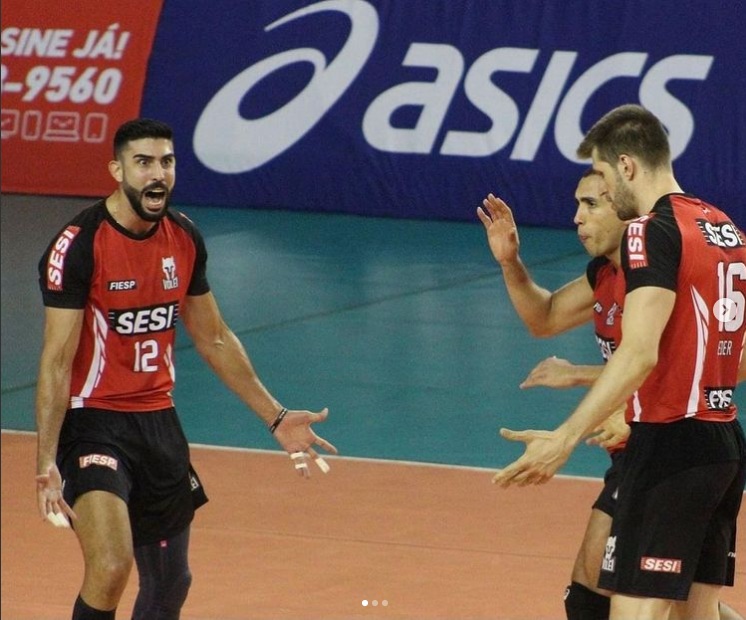 Sesi-SP beat titleholders Vôlei Funvic Natal in four sets in Round 3 of the 2021/22 Men's Superliga, achieving their third victory in as many games in the competition by which they leveled with Sada Cruzeiro at the top of the charts at eight points. The team from São Paulo spoiled Funvic's debut at their new home ground, the Ginásio Nélio Dias in the city of Natal, with which they replaced Ginásio do Abaeté in Taubaté. Funvic's supporters certainly were not pleased with so many mistakes players of the new team in town made, especially in the first and fourth set. Guilherme Emina 'Guiga' top-scored Sesi with 14 points. Douglas Pureza made 81% reception (16 digs, 44% excellent).
In the tie-break, Sada Cruzeiro defeated Montes Claros América Vôlei in the little 'clássico mineiro' (the classic of the Minas Gerias state). The six-time national champions were pushed against the wall by the visitors, but despite having lost first sets in the current edition of Superliga, they remained undefeated in the season, counting also games for the state championship and Super Cup. Wallace Souza stood out in Cruzeiro with 24 points. Otávio Pinto and Isac Santos set up five blocks apiece, while Cuban Miguel Ángel López served four aces.
The duel between Vôlei Renata (Campinas) and vice-champions Fiat/Gerdau/Minas, two of the candidates for the title, confirmed the prediction saying it will be balanced. In a dispute defined in the details, the Belo Horizonte side was more efficient in the decisive moments and prevailed 3-1 (26-24, 18-25, 35-33, 25-23). It was Minas' second victory in two games so far. Campinas suffered the third defeat and are still without a win in the tournament.
2021/22 Men's Superliga – regular season, Round 3: