Berlin Recycling Volleys achieved a surprising win in the 2023 CEV Men's Volleyball Champions League.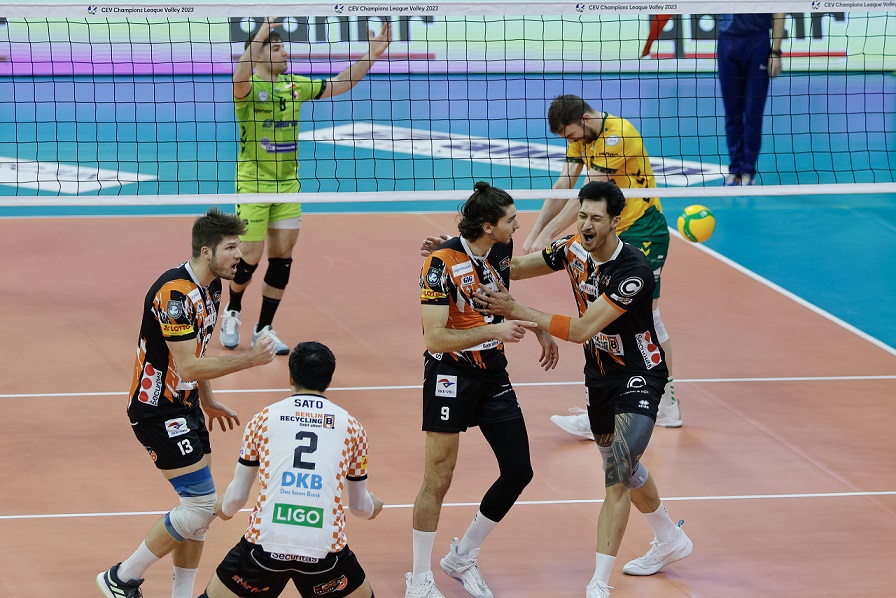 In Round 3 of the CEV Champions League Volley 2023 | Men, Berlin Recycling Volleys got a surprising away win. The two-time defending German champions prevailed over unbeaten Aluron CMC Warta Zawiercie 3-1 (25-21, 20-25, 29-27, 27-25) in Pool B. With 5 points, the Bundesliga side kept its chances of reaching the quarter-finals.
In Dąbrowa Górnicza, where the Polish bronze medalists play their home matches in the Champions League, Berlin probably showed their best performance of the season so far, being led by Czech Marek Šotola (23 points). Japanese Satoshi Tsuiki made 72% reception (25 digs, 2 errors, 44% excellent), and Anton Brehme 71% attack (10/14). Serb Uroš Kovačević scored 26 for Aluron. Miłosz Zniszczoł made 4 blocks. Both teams are 2-1, but Aluron have 6 points.
There's one more team in Pool B with the same record – Halkbank Ankara. Thanks to Dutchman Nimir Abdel-Aziz (23 points), American Micah Kupono Ma'a (4 aces), and Argentine Bruno Lima (81% attack; 17/21), the Turkish vice-champions rejected the comeback of Bulgaria's Hebar Pazardzhik, who managed to level at 2-2 in sets following a 0-2 deficit. Todor Aleksiev scored 18 points on the losing side, while Iliya Petkov served 4 aces.
Led by Dutchman Wouter ter Maat (30 points) and Faik Samet Güneş (4 blocks), the Turkish titleholders Ziraat Bank Ankara downed Slovenia's ACH Volley Ljubljana on the road to earn their first win in Pool E and keep their chances of advancing to the playoffs. North Macedonian Nikola Gjorrgiev tallied 31 points for ACH Volley.
Cucine Lube Civitanova risked a bit in Belgium but maintained the perfect record in Pool C. Practically all rivals, either back home in Italy or in Europe, have caused issues for the SuperLega champions this season thus far – so did Knack Roeselare. Lube had to cancel the rival's set balls in the fourth set to avoid going into the tie-break and collected a precious three-point victory to maintain the advantage over France's Tours VB, the main opponent for direct qualification to the quarter-finals.
Ivan Zaytsev top-scored for Lube with 21 points. Frenchman Barthélémy Chinenyeze had 83% attack (10/12). Argentine Pablo Sergio Koukartsev grounded 22 points for Roeselare. Estonian Märt Tammearu served 4 aces, while Matthijs Verhanneman had 76& reception (21 digs, 2 errors, 57% excellent).
CEV Champions League Volley 2023 | Men – group stage, Round 3: