The club that can easily represent Russia in this year's CEV Women's Volleyball Champions League (even though it's based in France) given the number of players from this nation on the roster, Volero Le Cannet, had a player that probably made the greatest debut to the competition ever.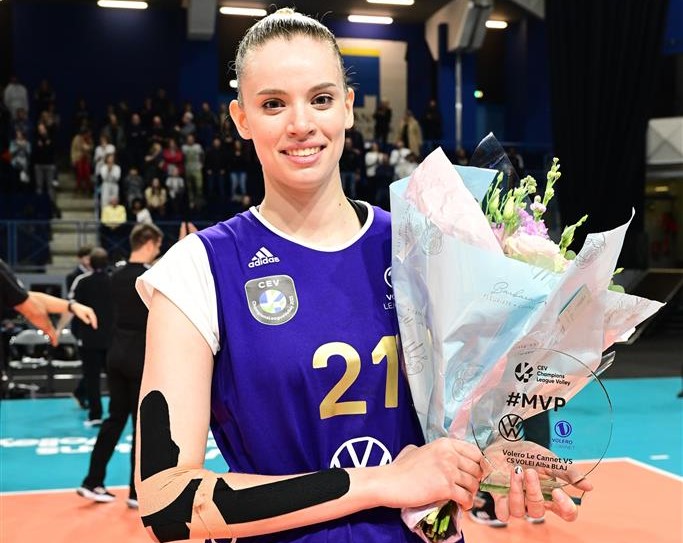 The most-Russian club in Europe, Volero Le Cannet, broke into the CEV Champions League Volley 2023 | Women with a 3-2 win over Romania's CS Volei Alba Blaj in Rund 1 of Pool B, last night. But the bigger news is that their opposite, Vita Akimova, scored 43 points in her first-ever match in the most elite club competition in Europe. The 20-year-old player established herself as the biggest star of the French side, which used to be based in Switzerland. Even though she has never played outside of her native country and came to Volero from a club that doesn't belong to the crème de la crème of Russian volleyball, Dinamo-Metar, Akimova has a good reputation in the youth categories. She was named Best Scorer, Best Opposite, and Best Spiker of the 2021 U20 FIVB World Championship.
Russian clubs have been excluded from European competitions, but at the same time, there are still a lot of our Russian players in the Champions League – in a single team, most are in Volero: as many as six. No wonder given that the club is owned by Stav Jacobi, a famous club official in the 'Old Continent' and the one who was behind Volero's numerous titles while based in Zürich. His real name is Stanislav Yakubovskiy and he's a former Soviet volleyball player. According to the transferring calculator of the European Volleyball Confederation (CEV), compensation for each Russian player this summer cost Volero 3,250 euros. And they all got a chance to compete in the Champions League, which will benefit their careers a lot.