The Men's CEV Champions League reached an exciting phase with three semifinalists confirmed. Jastrzębski Węgiel, Sir Sicoma Monini Perugia, and Halkbank Ankara have emerged as the strongest teams in the tournament.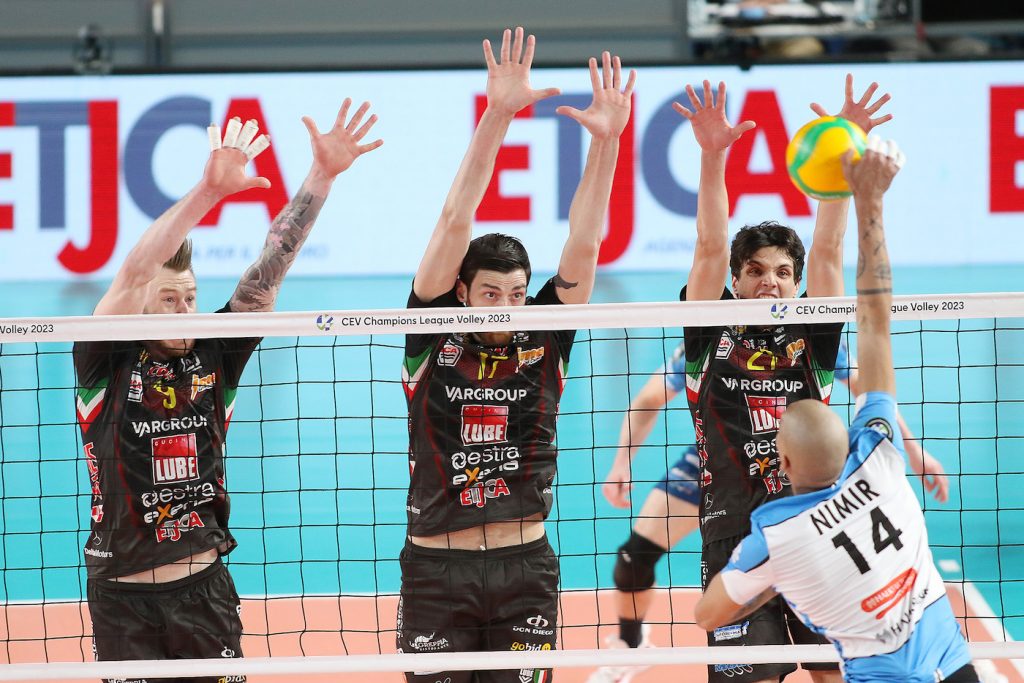 Jastrzębski Węgiel secured their place in the semi-finals with a dominant performance against VfB Friedrichshafen in the both matches. They won the 2nd leg game also in straight sets (25-14, 25-20, 25-16), and Tomasz Fornal was the top scorer for the team with 10 points. Trevor Clevenot also contributed with 9 points, while Tim Peter was the most efficient player for the German side with 10 points.
In the second quarterfinal clash, Sir Sicoma Monini Perugia faced off against Berlin Recycling Volleys. Perugia won the first leg of the quarterfinals with a score of 3-1, and they continued their winning streak with a hard-fought victory over BR Volleys in the second leg. Perugia won 3-2 (24-26, 25-21, 22-25, 25-17, 15-13). Oleh Plotnytskyi was the MVP of the match with 18 points, three aces, and an impressive 61% attack rate.
The third quarterfinal match between Halkbank Ankara and Cucine Lube Civitanova was a closely contested affair. Lube had won the home match with a score of 3-1, but Halkbank fought back in the Golden set to emerge victorious with a score of 15-12. Nimir Abdel-Aziz was the most efficient player for Halkbank with 26 points, while Ivan Zaytsev was the top scorer of the match with 32 points for Civitanova.
In the semifinals, Halkbank Ankara will face Jastrzębski Węgiel, while Sir Sicoma Monini Perugia will take on the winner of the match between Itas Trentino and Grupa Azoty ZAKSA Kędzierzyn-Koźle, which will be played tomorrow.
CEV Champions league – Quarterfinals – 1st Leg
March 7, 2023
Halkbank Ankara vs Cucine Lube Civitanova 3-1 (21-25, 25-20, 25-23, 25-21)
Grupa Azoty ZAKSA Kędzierzyn-Koźle vs Itas Trentino 3-2 (25-22, 22-25, 22-25, 25-21, 15-10)
March 8, 2023
Berlin Recycling Volleys vs Sir Sicoma Monini Perugia 1-3 (18-25, 15-25, 25-23, 17-25)
March 9, 2023
VfB Friedrichshafen vs Jastrzębski Węgiel 0-3 (17-25, 16-25, 13-25)
CEV Champions league – Quarterfinals – 2nd Leg
March 15, 2023
Jastrzębski Węgiel vs VfB Friedrichshafen 3-0 (25-14, 25-20, 25-16)
Sir Sicoma Monini Perugia vs Berlin Recycling Volleys 3-2 (24-26, 25-21, 22-25, 25-17, 15-13)
Cucine Lube Civitanova vs Halkbank Ankara 3-1 (31-29, 25-20, 23-25, 25-20) – Golden set 12-15
March 16, 2023
Itas Trentino vs Grupa Azoty ZAKSA Kędzierzyn-Koźle