Italian Cup winners Piacenza suffered a huge blow in their bid to reach the final of the CEV Cup after losing to Roeselare in the Golden set. Piacenza won the second leg of the clash 3-0, but unfortunately, they lost in the Golden set 12-15, which means Roeselare is now one step closer to repeating their success from the 2001/2002 season.
Yoandy Leal of Piacenza was the match top scorer with 18 points, 52% in attack, 4 blocks, and a 40% on reception, while Yuri Romano added 16 points, including 5 aces and 1 block. Pablo Koukartsev was the most effective for Roeselare, scoring 14 points with a 38% in attack.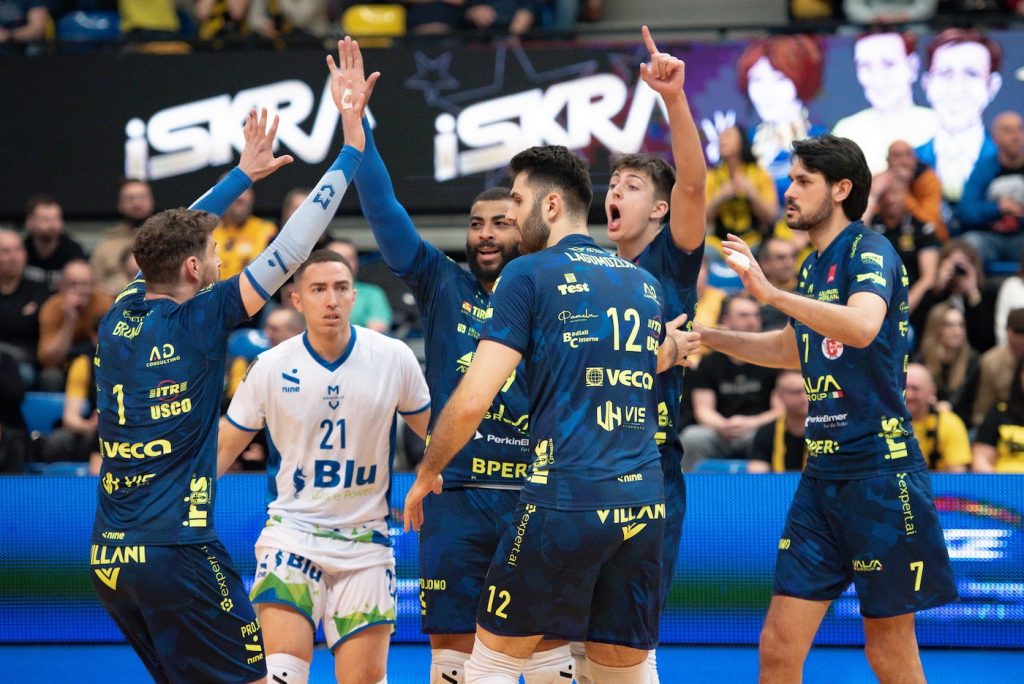 In the final, Roeselare will play against Valsa Group Modena, who beat PGE Skra Bełchatów in Poland in a thrilling encounter (25-22, 21-25, 25-21, 16-25, 14-16). Dick Kooy was the top scorer of the match, scoring 21 points with a 48% attack rate, 3 aces, 3 blocks, and a 58% reception rate. Aleksandar Atanasijevic added 18 points with a 47% attack rate for Bełchatów. For the winning side, Adis Lagumdzija was the most effective, scoring 20 points with a 47% attack rate, 2 aces, and 2 blocks, followed by Earwin Ngapeth who scored 17 points with a 58% in attack, 2 aces, and a 55% on reception.
CEV Cup – Semifinals – 1st Leg
Knack Roeselare (BEL) vs Bluenergy Daiko Volley Piacenza (ITA) 3-0 (25-20, 25-23, 25-23)
Valsa Group Modena (ITA) vs PGE Skra Bełchatów (POL) 3-1 (25-20, 20-25, 25-18, 25-22)
CEV Cup – Semifinals – 2nd Leg
March 15, 2023
PGE Skra Bełchatów (POL) vs Valsa Group Modena (ITA) 2-3 (25-22, 21-25, 25-21, 16-25, 14-16)
Bluenergy Daiko Volley Piacenza (ITA) vs Knack Roeselare (BEL) 3-0 (25-17, 25-19, 25-21) – Golden set 12-15