In the big Asian derby valid for Day 2 of the 2021 FIVB Women's Volleyball Nations League, Japan swept China.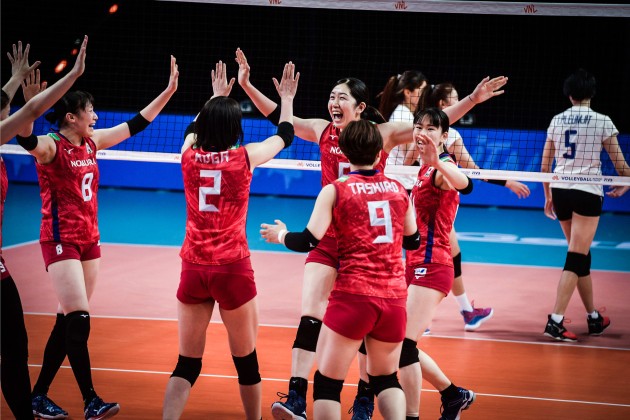 Japan swept the reigning Olympic champions China (deprived of the help of all major stars until the second half of the tournament) on the second day of the 2021 Women's VNL held in the Rimini bubble in Italy: 3-0 (25-13, 25-19, 25-17).
It was the biggest Asian classic that came one day after both national teams already played against rivals from their continent. Now, Japan reached a perfect record of 2-0, while China are at 1-1. The fact that Rio 2016 winners are playing with substitute players is visible in their play in many segments. For instance, against Japan today, China didn't serve a single ace in the entire game. Mayu Ishikawa top-scored Japan with 18 points.
In the other all-Asian derby on Day 2, South Korea inflicted the second defeat in as many games to Thailand, adding the first success to their own account. Even though they played without their captain and main star of the team, Kim Yeon-Koung (she played the opener), Korea prevailed over Thai rivals but not without difficulties: 3-1 (15-25, 25-13, 25-18, 25-17). Park Jeong-Ah led the winning side with 22 points.
In a close match that was resolved in the tie-break, Germany noted their debut win in the VNL 2021. The ladies coached by Felix Koslowski were better than The Netherlands, being led by Lina Alsmeier (18 points). Thus, 'The Butterflies' succeeded in handling Nika Daalderop, who put down 25 for the Dutch Women (they are at 1-1).
2021 FIVB Women's Volleyball Nations League – Day 2:
Netherlands – Germany 2-3 (25-18, 18-25, 30-28, 23-25, 12-15)
Thailand – Korea 1-3 (25-15, 13-25, 18-25, 17-25)
China – Japan 0-3 (13-25, 19-25, 17-25)
Belgium – Russia 2-3 (25-23, 25-21, 19-25, 19-25, 8-15)
Serbia – Poland 3-1 (20-25, 25-17, 25-16, 25-21)
Brazil – Dominican Republic 3-0 (25-20, 25-10, 25-17)
Turkey vs Italy, 7 pm CET
USA vs Canada, 9 pm CET