The Serbia National Team defeated France in the fifth round of the 2021 FIVB Men's Volleyball Nations League in Rimini (Italy) after a great turnaround.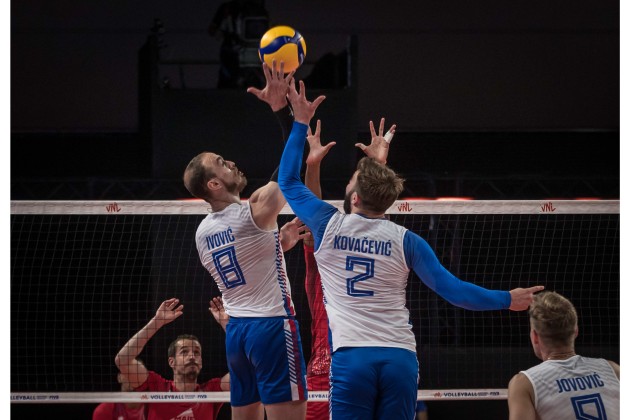 Serbia recorded its fourth triumph in five games in the 2021 Men's VNL after being two sets down against big rivals France, who was the only undefeated side prior to the encounter. Practically all sets except the tie-break could go either direction. As for a decisive set, the European champion played furiously, giving no chance to the 'Les Bleus': 3-2 (22-25, 24-26, 25-22, 25-23, 15-9).
"It was a really important match because we knew that if we lost to France there might be a possibility that we would not be going to the Final Four – and that's our primary goal," said Serbia's top scorer in the match (24 points), Aleksandar Atanasijević. Stéphen Boyer tallied 26 for France.
The Dutch team booked its first victory in the tournament. The 'Oranje' was too strong for Germany, 3-2. They were led in the attack by a duo Thijs Ter Horst and Nimir Abdel-Aziz, who scored 26 and 24 points respectively. The latter served 5 aces, while Michael Parkinson set up 4 blocks.
Brazil stormed past Japan to redeem for an easy defeat against France yesterday. This time, the provisional 'Seleção' head coach Carlos Schwanke introduced the best possible lineup which paid him off. Wallace de Souza stood out with 16 points.
Mostly thanks to Žiga Štern (14 points) Slovenia put on a stop sign to Argentina, sweeping the rival to improve to 4-1.
"The match was really difficult, especially because we played at an unusual time, at 10 o'clock in the morning. We knew it wasn't going to be easy and stepped on the field as we should and deservedly won. Now we have to rest well because tomorrow at 12 o'clock we will have a match with Germany and we will go for a new victory," stated Slovenia's outside hitter Alen Šket.
2021 FIVB Men's Volleyball Nations League – Day 5:
Argentina – Slovenia 0-3 (19-25, 22-25, 18-25)
Netherlands – Germany 3-2 (25-18, 23-25, 25-20, 23-25, 15-13)
Brazil – Japan 3-0 (25-20, 25-16, 25-20)
Serbia – France 3-2 (22-25, 24-26, 25-22, 25-23, 15-9)
Iran – Italy 3-1 (26-24, 29-27, 21-25, 25-22)
Poland – USA 3-0 (25-17, 28-26, 25-17)
Russia – Australia 3-0 (25-19, 26-24, 25-21)
Canada vs Bulgaria, 9 p.m. CET