The matches of the 6th and one match of the 15th round of the Bundesliga were played. On Wednesday, the victories were achieved by SWD powervolleys Düren, Berlin Recycling Volleys and WWK Volleys Herrsching. In yesterday's program, VfB Friedrichshafen won the third game of the Bundesliga within six days.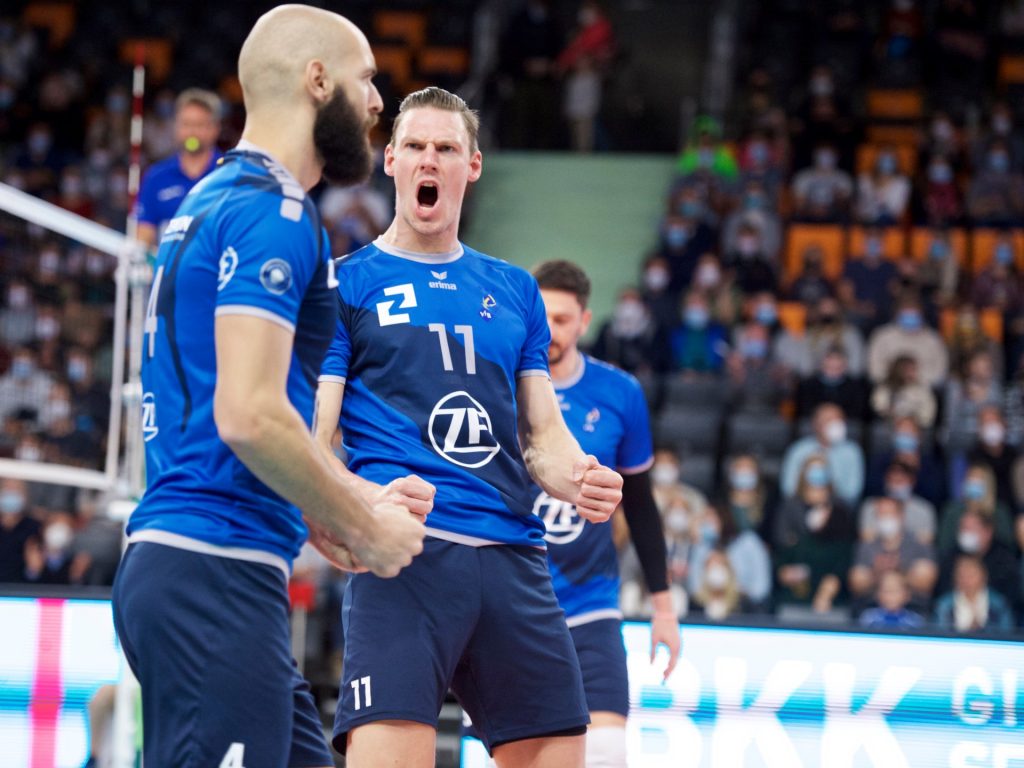 VfB Friedrichshafen defeated Helios Grizzlys Giesen 3-0 (25-16, 25-16, 25-19). With a strong performance, VfB Friedrichshafen gave the guests only a few opportunities to threaten in front of almost 700 spectators in the ratiopharm arena in Ulm. With twelve points, VfB Friedrichshafen is now third in the standings.
This time the Energiequelle Netzhoppers KW-Bestensee had a double program. After losing to WWK Volleys Herrsching in the 6th round match on Wednesday, Energiequelle Netzhoppers KW-Bestensee beat TSV Haching München 3-1 in a pre-played match of the 15th round on Thursday.
1.Bundesliga
November 3, 2021
SVG Lüneburg – SWD powervolleys Düren 1-3 (25-22, 23-25, 22-25, 21-25)
Berlin Recycling Volleys – United Volleys Frankfurt 3-0 (25-19, 25-22, 25-20)
WWK Volleys Herrsching – Energiequelle Netzhoppers KW-Bestensee 3-1 (25-27, 25-21, 27-25, 25-17)
November 4, 2021
VfB Friedrichshafen – Helios Grizzlys Giesen 3-0 (25-16, 25-16, 25-19)
TSV Haching München – Energiequelle Netzhoppers KW-Bestensee 1-3 (25-18, 17-25, 18-25, 14-25)