With the victory achieved after five sets in the third match in Düren, VfB Friedrichshafen secured entry into the Bundesliga playoff finals. After a long and even fight, Düren failed to gain the advantage of the home field and lost 3-2 (25-20, 20-25, 22-25, 30-28, 17-19) as in the first game. With 3-0 in the series, VfB Friedrichshafen won the first ticket to the playoff finals and awaits the winners of the second semifinal series between the Berlin Recycling Volleys and United Volleys Frankfurt.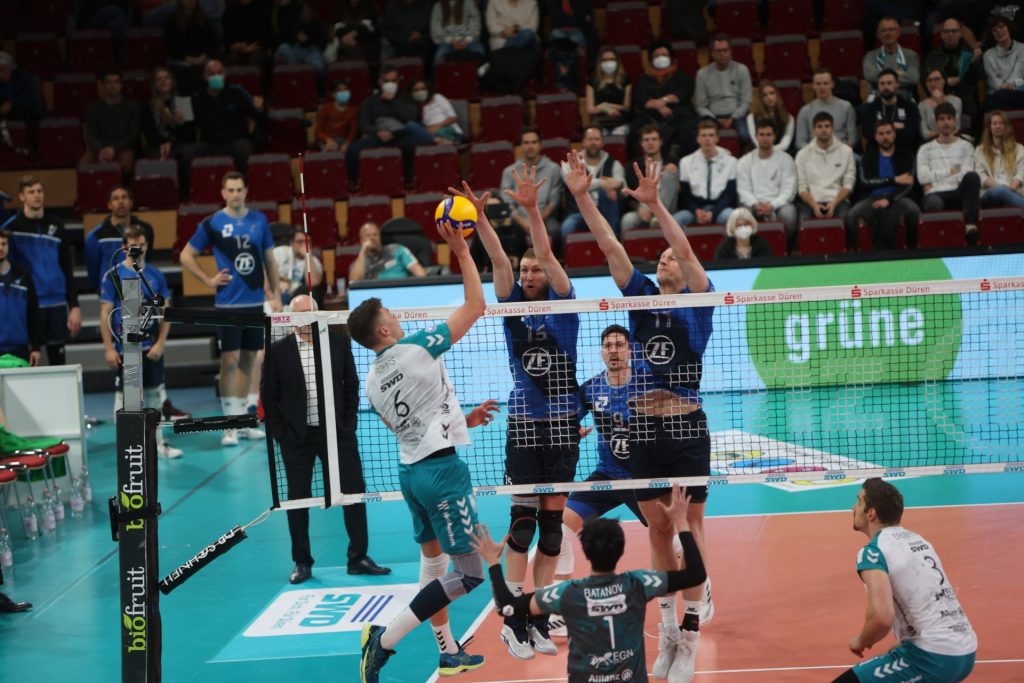 Berlin Recycling Volleys took the lead in the series with a victory at home, and they will seek a place in the finals in the fourth game in Frankfurt. Berlin Recycling Volleys with a confident performance beat United Volleys Frankfurt 3-0 (25-18, 25-17, 25-22). The next, fourth game of the semifinal series is scheduled for Saturday, April 9 in Frankfurt. 
The semifinals are played in a "best-of-five" format.
1st Bundesliga – Playoffs – Semifinals
March 30, 2022
SWD powervolleys Düren – VfB Friedrichshafen 2-3 (19-25, 25-22, 25-20, 25-22, 15-10) – stats
Berlin Recycling Volleys – United Volleys Frankfurt 3-1 (25-20, 25-17, 22-25, 25-23) – stats
April 2, 2022
United Volleys Frankfurt – Berlin Recycling Volleys 3-2 (25-22, 25-22, 26-28, 14-25, 15-9) – stats – (1-1 in the semifinals)
April 3, 2022
VfB Friedrichshafen – SWD powervolleys Düren 3-0 (25-23, 31-29, 26-24) – stats – (2-0 in the semifinals)
April 6, 2022
Berlin Recycling Volleys – United Volleys Frankfurt 3-0 (25-18, 25-17, 25-22) – stats – (2-1 in the semifinals)
SWD powervolleys Düren – VfB Friedrichshafen 2-3 (25-20, 20-25, 22-25, 30-28, 17-19) – stats – (0-3 in the semifinals)
April 9, 2022
United Volleys Frankfurt – Berlin Recycling Volleys