In front of 1,700 spectators, Berlin managed to close the semifinal series with an away victory. In match no. 4 played in Frankfurt, Berlin Recycling Volleys defeated United Volleys Frankfurt and with 3-1 in the series secure a clash with another German powerhouse, VfB Friedrichshafen in the final series. (In the other semifinal, VfB Friedrichshafen eliminated SWD powervolleys Düren with 3-0 in the series.)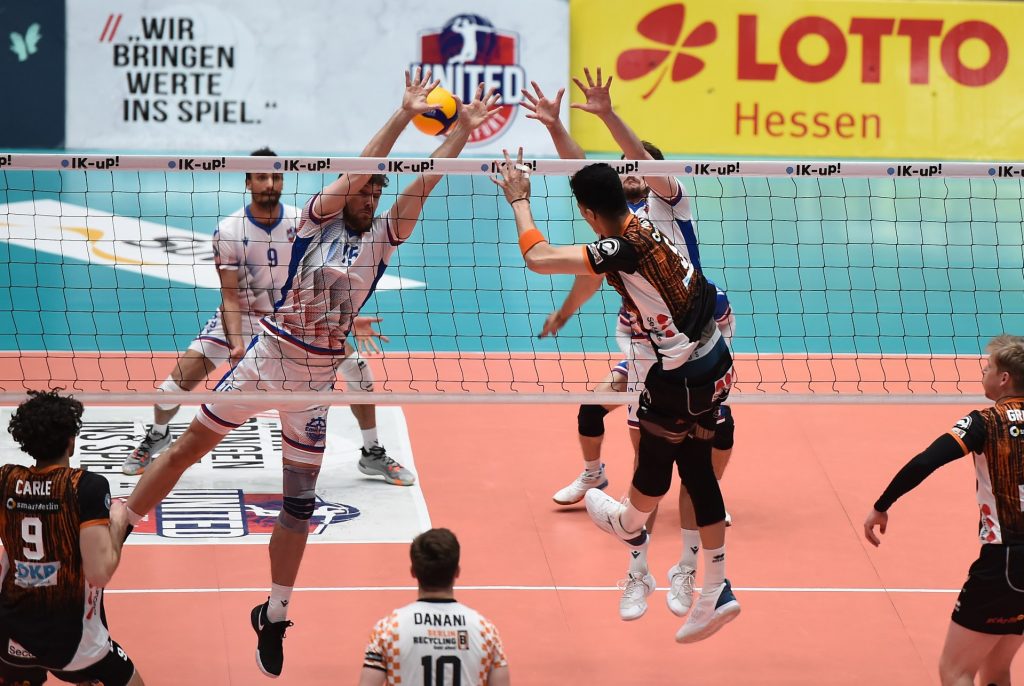 The match was full of excitement and tied, but in the decisive moments, the Berliners showed more calmness and in the end celebrated with 3-1 (29-27, 23-25, 26-24, 25-21). Daniel Malescha from Frankfurt was the top scorer of the match with 20 points, followed by his teammate Max Staples with 17 points. For Berlin, the top scorers were Timothée Carle and Jeffrey Jendryk with 16 points each.
The final series starts on Saturday, April 16 in Berlin. The finals are played in a "best-of-five" format.
1st Bundesliga – Playoffs – Semifinals
March 30, 2022
SWD powervolleys Düren – VfB Friedrichshafen 2-3 (19-25, 25-22, 25-20, 25-22, 15-10) – stats
Berlin Recycling Volleys – United Volleys Frankfurt 3-1 (25-20, 25-17, 22-25, 25-23) – stats
April 2, 2022
United Volleys Frankfurt – Berlin Recycling Volleys 3-2 (25-22, 25-22, 26-28, 14-25, 15-9) – stats – (1-1 in the semifinals)
April 3, 2022
VfB Friedrichshafen – SWD powervolleys Düren 3-0 (25-23, 31-29, 26-24) – stats – (2-0 in the semifinals)
April 6, 2022
Berlin Recycling Volleys – United Volleys Frankfurt 3-0 (25-18, 25-17, 25-22) – stats – (2-1 in the semifinals)
SWD powervolleys Düren – VfB Friedrichshafen 2-3 (25-20, 20-25, 22-25, 30-28, 17-19) – stats – (0-3 in the semifinals)
April 9, 2022
United Volleys Frankfurt – Berlin Recycling Volleys 1-3 (27-29, 25-23, 24-26, 21-25) – stats – (1-3 in the semifinals)
1st Bundesliga – Playoffs –Finals
April 16, 2022
Berlin Recycling Volleys – VfB Friedrichshafen