The players of Sir Safety Susa Perugia gave a beautiful gift to their head coach, Andrea Anastasi—a confident win to mark his return to the Italian Men's Volleyball Championship after 17 years.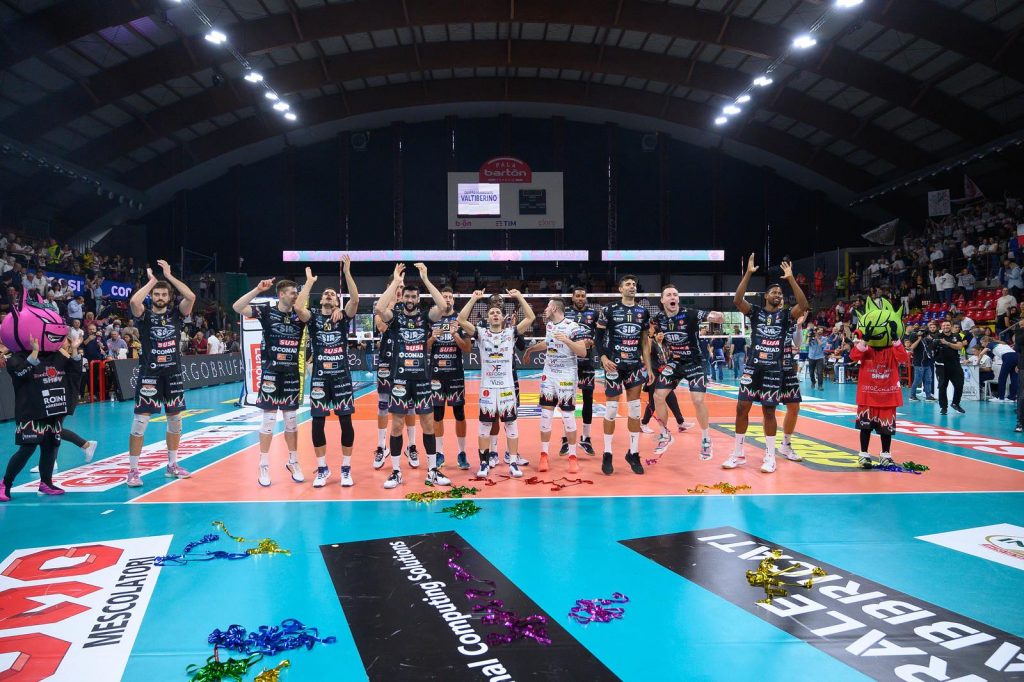 Sir Safety Susa Perugia made a winning debut at the 2022–23 SuperLega Credem Banca. In front of their own audience, the renewed 'Block Devils' overcame Vero Volley Monza in three sets. A convincing performance by the team commanded by Andrea Anastasi, who has returned to the Italian Championship after 17 years.
Perugia, with the Cuban-Polish, Wilfredo León, on the bench imposed their own pace of play against the rival who lacked the starting setter Fernando Kreling 'Cachopa'. The Brazilian will be out for four months. The Luxembourgish, Kamil Rychlicki, who now competes as an Italian player, tallied 16 points (4 aces) for Perugia. Massimo Colaci made 86% reception (14 digs, 57% perfect). The German, Georg Grozer, scored 12 for Monza. Thomas Beretta had 4 blocks.
The return to their hall after more than four months of waiting was sweet for Itas Trentino. They gave their fans the first satisfaction of the new season, beating the freshmen, Emma Villas Aubay Siena, 3-1 in their first match of the 2022-23 SuperLega.
It wasn't an easy match for the Trentino players against a combative team. The Bulgarian, Matey Kaziyski, led the home side's scorer with 26 points, including 5 aces. Alessandro Michieletto made 4 blocks, while Gabriele Laurenzano had 79% reception (29 digs, 34% perfect). The Dutchman, Maarten van Garderen scored 17 points for Siena.
The second surprise of the first round of Superlega, apart from Padova's triumph over Modena, was the one Top Volley Cisterna made against Allianz Milano. Fabio Soli's team not only imposed itself on the field of a favored rival but even did so with a 3-0.
The Croatian duo, Sedlaček – Djirlić, took care of Cisterna's win. Both scored 16 points. The Frenchman, Jean Patry, put down the exact number of points on the losing side.
In the last match on Sunday, we saw the third upset of the opening round—this one was perhaps the biggest of all. WithU Verona conquered Gas Sales Bluenergy Piacenza's PalaBanca after the exciting tie-break of an incandescent match. It was the kind of SuperLega debut of a highly reinforced Piacenza that their fans hadn't hoped for. In the fifth set, Verona, who came back from 1-2 down in sets, canceled three match points of Piacenza before converting the fourth match point of their own.
The Russian, Maksim Sapozhkov, of Verona, as well as the Cuban-Brazilian, Yoandy Leal, and Yuri Romanò of Piacenza, shared the top scorer of the match award with 25 points apiece. The Malian, Noumory Keita, served 4 aces for Verona.
2022–23 SuperLega Credem Banca – regular season, Round 1: