The Korean Volleyball Federation announces results and the final selection in the tryout (Draft) for the women's season of the V-League 2022/2023.
2022-2023 V-League Season, Women's Foreign Players List:
Pepper Savings Bank – Nia Reed (USA)
Hyundai Engineering & Construction Hillstate – Yaasmeen Bedart (USA)
Korea Gingseng Corporation Pro Volleyball Club – Elizabet Lenke Inneh (HUN)
Heungkuk Life Insurance Pink Spiders – Jelena Mladjenovic (BiH)
Korea Expressway Corporation Hi-Pass – Katarina Jovic (SRB/BiH)
Industrial Bank of Korea Altos – Anastasiya Gurbanova (AZE/RUS)
GS Caltex Seoul Kixx – Laetitia Moma Bassoko (CMR)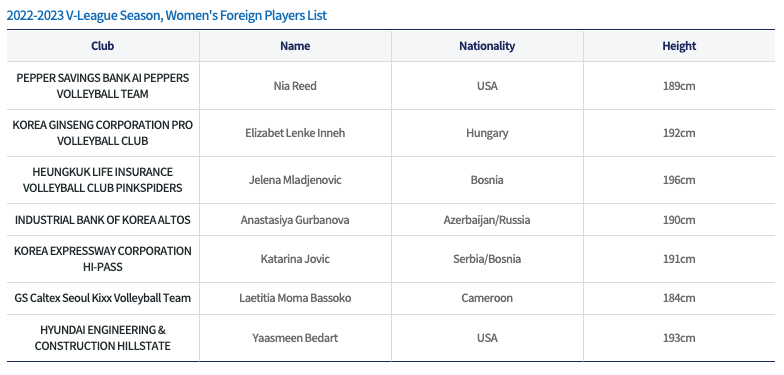 KOVO has also announced the terms of the contract for the selected players, and some of the terms are:
The contract period is from August 2022 to March 2023, with the option to continue until April.
For the first year, the contracted salary amount is $ 200,000, and for the second year and more (Contract renew) the salary amount will increase to $ 300,000. Players are solely responsible for tax liabilities.
Bonuses for match victories are also applicable, as well as bonuses for champions and runners-up.