The 24th round of Plusliga 2022/23 ended with the last three matches played. 
In the first game, Aluron CMC Warta Zawiercie defeated PSG Stal Nysa 3-0 (25-19, 25-17, 25:1) and returned to 2nd place in the overall standings.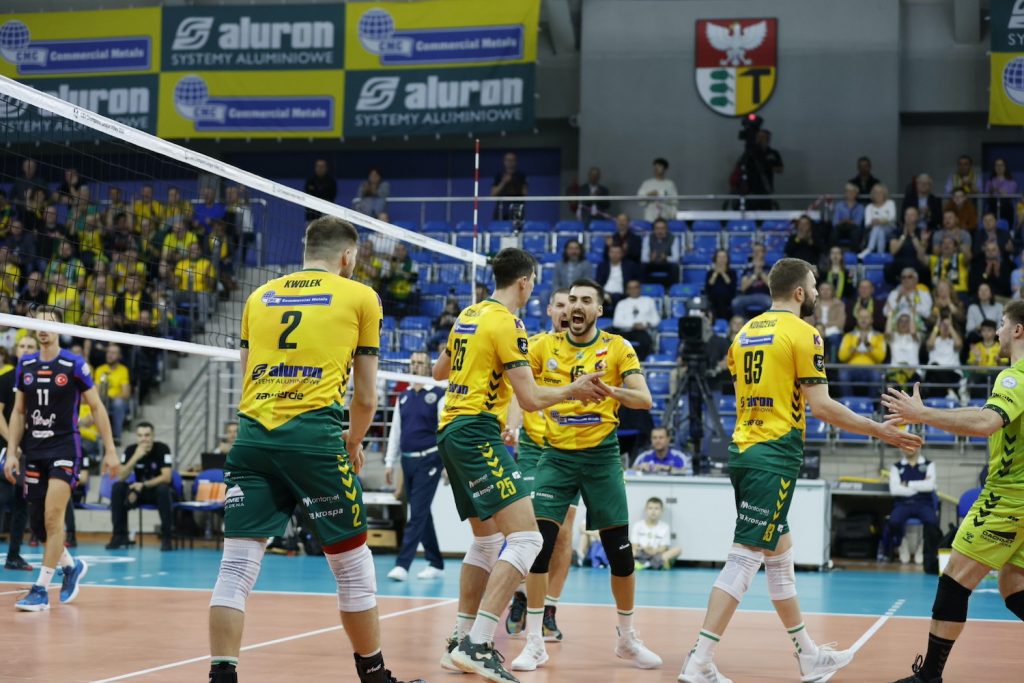 PGE Skra Bełchatów suffered their fourth consecutive defeat in all competitions, including in the quarter-finals of the CEV Cup on Wednesday. This time they lost to Cuprum Lubin at home with a score of 2-3 (25-18, 25-21, 23-25, 23-25, 17-19). With this defeat, Bełchatów is practically out of the playoff zone.
And in the last game of the program, last-placed BBTS Bielsko-Biała defeated GKS Katowice 2-3 (18-25, 25-22, 25-27, 25-23, 10-15).
Plusliga – Round 24
February 9, 2023
Indykpol AZS Olsztyn vs Asseco Resovia Rzeszów 1-3 (14-25, 22-25, 25-22, 32-34)
February 10, 2023
Cerrad Enea Czarni Radom vs Ślepsk Malow Suwałki 0-3 (25-27, 19-25, 16-25)
February 11, 2023
Jastrzębski Węgiel vs Projekt Warszawa 1-3 (18-25, 25-17, 21-25, 22-25)
Grupa Azoty ZAKSA Kędzierzyn Koźle vs Barkom Każany Lwów 3-0 (30-28, 25-21, 25-16)
LUK Lublin vs Trefl Gdańsk 0-3 (17-25, 17-25, 22-25)
February 12, 2023
Aluron CMC Warta Zawiercie vs PSG Stal Nysa 3-0 (25-19, 25-17, 25:1)
PGE Skra Bełchatów vs Cuprum Lubin 2-3 (25-18, 25-21, 23-25, 23-25, 17-19)
GKS Katowice vs BBTS Bielsko-Biała 2-3 (18-25, 25-22, 25-27, 25-23, 10-15)
STANDINGS
1. Asseco Resovia Rzeszów 56
2. Aluron CMC Warta Zawiercie 53
3. Jastrzębski Węgiel 52
4. Grupa Azoty ZAKSA Kędzierzyn-Koźle 49
5. Projekt Warszawa 46
6. Trefl Gdańsk 41
7. Indykpol AZS Olsztyn 40
8. Ślepsk Malow Suwałki 38
9. PSG Stal Nysa 37
10. LUK Lublin 34
11. PGE Skra Bełchatów 30
12. GKS Katowice 24
13. Barkom Każany Lwów 24
14. Cuprum Lubin 22
15. Cerrad Enea Czarni Radom 13
16. BBTS Bielsko-Biała 8