The Olympic Games women's beach volleyball tournament featured six clashes on day one.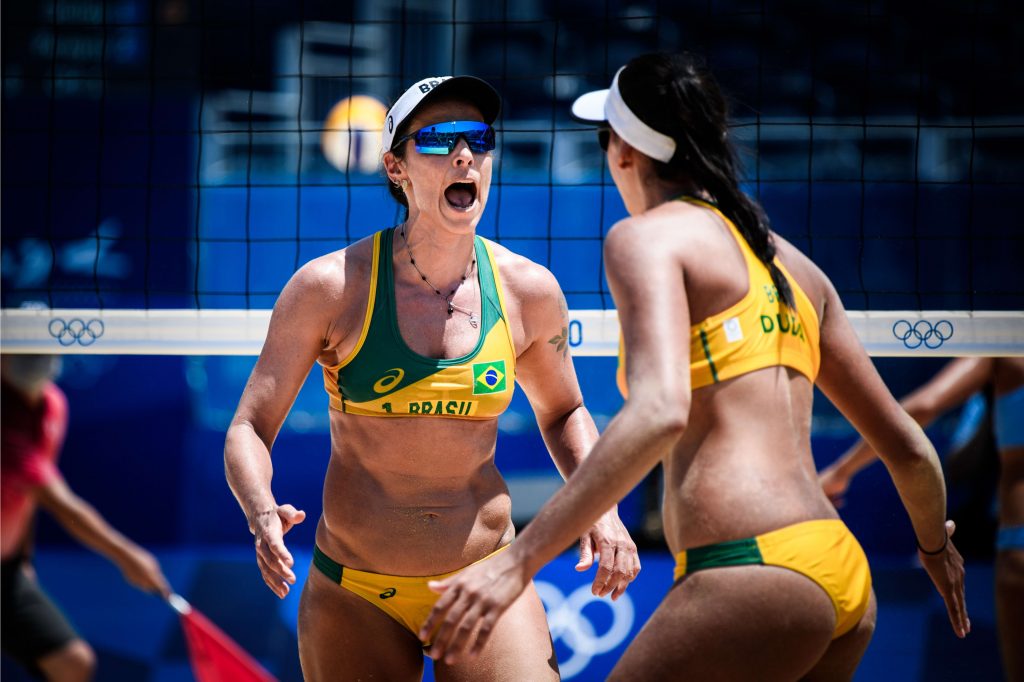 Swiss pairs achieved two three-set victories over their German opponents at Tokyo 2020 on Saturday, as the women's beach volleyball tournament at Shiokaze Park got underway with six fixtures in three pools.
In the first three-setter of the tournament, Switzerland's Tanja Huberli and Nina Betschart emerged with a narrow 2-1 (23-25, 22-20, 16-14) comeback victory over defending Olympic champion Laura Ludwig and her German teammate Margareta Kozuch. Each of the three sets was pushed to overtime and decided by the narrowest of margins. The Germans were the first to reach match point in the tiebreak, but the Swiss-made the home run on three consecutive points.
In the other Pool F first-leg fixture, Japan's Miki Ishii and Megumi Murakami were awarded the victory over Czechia's Barbora Hermannova and Marketa Slukova, who had to withdraw from the competition.
There was a Swiss-German clash in Pool A too and it was also decided in a tie-breaker. Switzerland's Anouk Verge-Depre and Joana Heidrich ran over Germany's Julia Sude and Karla Borger in the first set, but after reaching a double match point in the second, they allowed a German comeback to level the score. The third set was once again a one-sided affair as Verge-Depre and Heidrich cruised on to close the match at 2-1 (21-8, 21-23, 15-6). Also in that pool, reigning world champions Sarah Pavan and Melissa Humana-Paredes hammered out an emphatic 2-0 (21-16, 21-14) shutout of Netherlands' Katja Stam and Raisa Schoon.
China's Fan Wang and Xinyi Xia mastered a complete turnaround from a set down to defeat Canada's Heather Bansley and Brandie Wilkerson by 2-1 (18-21, 21-15, 15-11) in the last women's match of the day. In the other Pool C game earlier in the day, Rio 2016 silver medallist Agatha Bednarczuk and her partner Eduarda Santos Lisboa of Brazil produced a 2-0 (21-16, 21-14) win over Argentina's Ana Gallay and Fernanda Pereyra.
Day 1 results:
Ishii/Murakami – Hermanova/Slukova 2-0 (21-0, 21-0), officially registered
Agatha/Duda – Gallay/Pereyra 2-0 (21-19, 21-11)
Pavan/Humana Paredes – Stam/Schoon 2-0 (21-16, 21-14)
Betschart/Huberli – Kozuch/Ludwig 2-1 (23-25, 22-20, 16-14)
Heidrich/Verge – Sude/Borge 2-1 (21-8, 21-23, 15-6)
Bansley/Wilkerson – Wang/Xia 1-2 (21-18, 15-21, 11-15)