The sport of volleyball is the result of several athletic and technical abilities rolled into one. On any given play, viewers (and players) will witness a sport that features great power, agility, flexibility and skill.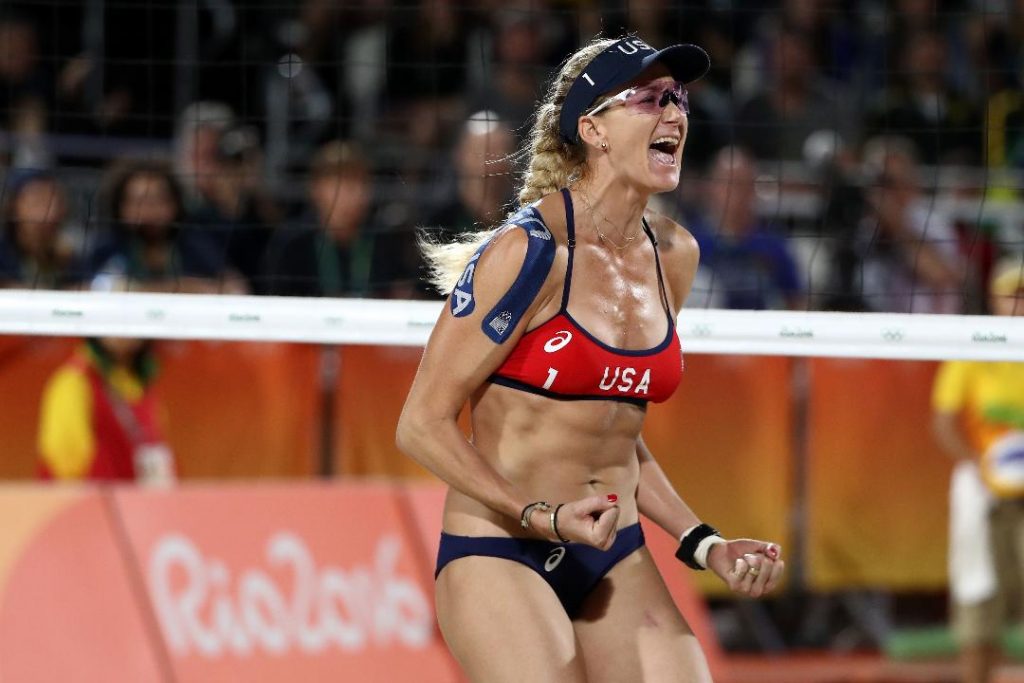 Teamwork and the ability to contort your body into unimaginable positions is often the difference between your team scoring a point, or the opponent adding one.
But as volleyball fans, we already know this.
At every tier of volleyball, you'll find athletes that also excelled in other sports. In high school, legend Kerri Walsh Jenning also played basketball alongside volleyball. From international to club competition, some of the best volleyball players in the world made a name for themselves across several sports.
The same could be said about other sports as well. WNBA star Elena Delle-Donne played volleyball in College, while NBA legend Wilt Chamberlain played volleyball for the Seattle Smashers.
Destinee Hooker was an NCAA High Jump champion and also competed at the 2012 Olympics for volleyball.
The two sports of basketball and volleyball have a great relationship with one another, but the skills used in volleyball can translate across a multitude of sports.
This has me thinking: What professional athletes could make the jump from their respective sport into the world of volleyball. Of course, this is all hypothetical because to be a top volleyball athlete, you need years of training and practice.
However, there are stars across the sporting world that would make a good fit for the sport if their athletic careers went down a different path.
NFL star Odell Beckham Jr. is the first athlete that comes to mind. The Cleveland Browns' Wide Receiver makes spectacular plays all over the gridiron and is one of the most athletic players in professional football today. Viral videos of OBJ have surfaced before of him competing and exceeding at other sports like baseball, basketball and futbol, so I think he would have no issue transitioning into the volleyball world.
OBJ's Browns are gearing up for next season in the NFL. In the betting world, the Browns have decent odds to win the Super Bowl – something the franchise has not accomplished in their history. The Browns did win the NFL Championship Game in 1964 against the Baltimore Colts, but Cleveland has never won the Super Bowl in modern times.
The Browns are currently listed at +1600 (Betway Sports) to win the Super Bowl in 2022. Cleveland finished last season with an 11-5 record, their best record since 1994.
The National Football League features tons of great athletes like Tyreek Hill, whose Kansas City Chiefs are a popular pick to win the Super Bowl again. Betway Sports has Kansas City at +450 to win Super Bowl LVI, the best odds of any team.
One of the most dominant athletes of all time, it would be offensive to not include tennis star Serena Williams on this list. Her achievements in professional tennis are something young tennis players can only dream about. Williams has dominated the sport and her physical attributes would help her immensely on the volleyball court. Her agility sticks out but overall athleticism would be a dream for many volleyball clubs.
Cristiano Ronaldo is another athlete that would slide into the volleyball world with ease. Ronaldo is one of the most athletically gifted futbol players in the sport. Ronaldo is known for his leaping ability and finesse. Ronaldo's 43-inch vertical would do wonders on the front row, both offensively and defensively. His intuition on the pitch is talked about often and would be something to look for when on the court as well. Ronaldo is a world-class athlete and would make an easy transition from futbol to volleyball.
When looking at this list, it's clear that to be a top volleyball player, you need to be a stunning athlete. Volleyball's specialty is the combination of athletic skills rolled into one. To be one of the very best, you need to succeed at many facets of the game. Ronaldo, Williams and Beckham Jr. are prime examples of top-tier athletes that could very well possess the skills needed in the sport of volleyball.
Who do you think would transition well from one sport over to volleyball? Volleyball is in a class of its own when it comes to athletic ability, so it makes you wonder which professionals could slide in. Many would try, but only a few would succeed.