After a 3-year drought, Sada Cruzeiro reached the very top of the Brazilian Men's Volleyball Championship.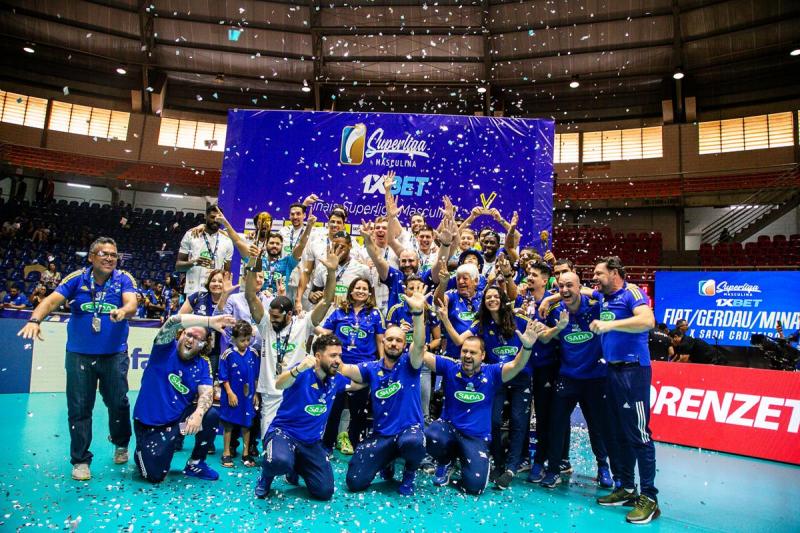 Led by Rodrigo Leão 'Rodriguinho', the author of 16 points (awarded the MVP of the finals), Sada Cruzeiro lifted their 5th trophy in the 2021/22 season, the most important one on the domestic scene – the Superliga Masculina 1XBET.
The Sabiazinho Arena in Uberlândia, the home of Fiat/Gerdau/Minas in the playoff finals, was packed with almost 6,000 people in the stands. However, most of them left disappointed as the Belo Horizonte side lost to Cruzeiro in Game 3 of the playoff finals 3-0. Given the Contagem club had also won the first game, it closed the series at 2-1, and guaranteed the title of the Brazilian men's champions in 2021/22.
The second set will be re-told for a long time. It lasted for 55 minutes! There were many chances for both sides to take it, but it was Cruzeiro that managed to do so. Minas had 5 set points since getting the 24-23 lead, but their rivals rejected them all. Cruzeiro got a hold on their first set ball at 29-28, but it took them 6 more before they increased the lead in sets to 2-0. Thus, 'time celeste' won the 5th trophy of the season, which is a historical result of the club: FIVB Club World Championship, Brazilian Super Cup, Minas Gerais Championship, South American Club Championship, and, now, the national league.
After two Superliga campaigns out of the final, Cruzeiro not only reached the title face-off again but also won the 7th title of the tournament, the first one since 2018, achieving so exactly one decade since their first-ever Superliga title. Despite the second consecutive silver medal in the league, Minas remain the biggest winners of the Superliga: they have 9 titles but with the last one taking place in 2007.
The Cruzeiro outside hitter from Cuba, Miguel López, was named MVP of the entire Superliga.
2021/22 Superliga Masculina 1XBET – playoff finals: