Hebar Pazardzhik experienced a full restart after the first leg of the Preliminary Round encounter of the 2022 CEV Men's Volleyball Champions League qualifier against CDV Guaguas Las Palmas.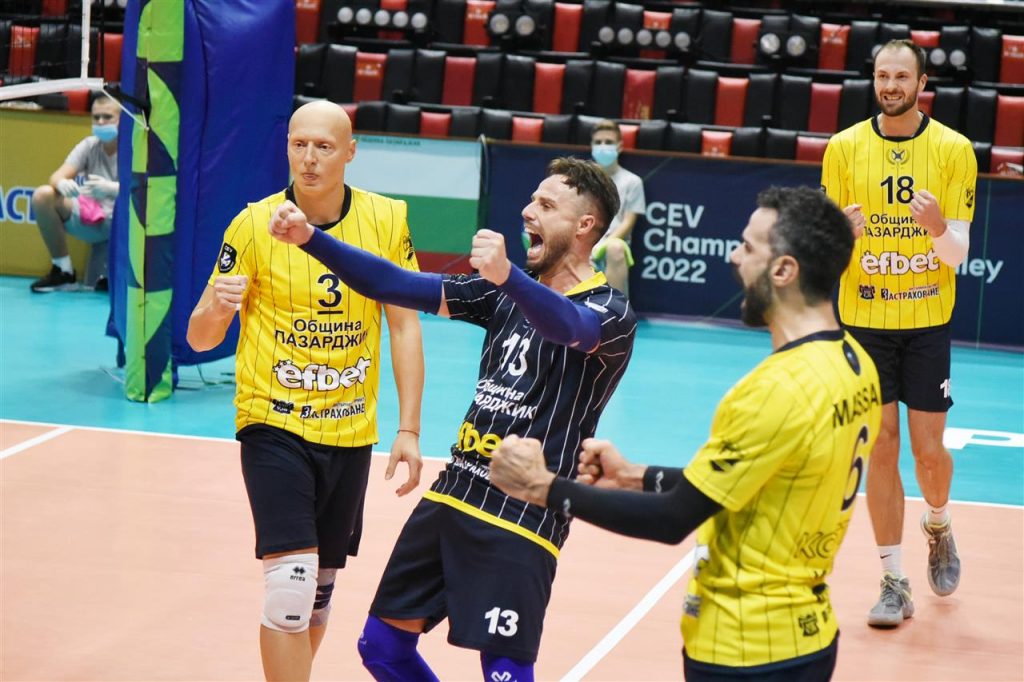 The champions of Bulgaria, Hebar, defeated the Spanish titleholders Guaguas with a score of 3-1 (25-20, 25-27, 25-16, 25-18) in the second leg of the Men's CEV Champions League Volley 2022 – first qualifying round. Given they were swept in the first match on the road, this result led Hebar to the Golden Set, in which they prevailed 15-13 and moved to the 2nd Round. In general, the hosts were the better team, presenting more solid arguments in almost all components of the game. In the attack, they had close to 70 % effectiveness for most of the game. The best scorers for Hebar were Canadian Bradley Gunter and Italian Jacopo Massari, who scored 19 points each. The latter had 73 % reception (30 digs, 67 % excellent). Nikolay Kartev made four blocks.
Montenegro's Budva Volley had a moment of hope in Croatia after winning the opening set of the rematch but they were eliminated from the Champions League by Mladost Zagreb. The Montenegrin champions triumphed 3-2 in sets on home soil and had 1-0 in sets and 15-11 in the fourth set. Mladost, led by Serbian Boris Buša (22 points) and Kruno Nikačević (six blocks), managed to save themselves and advance to the 2nd Round of qualifications. Budva players were dissatisfied with referees' decisions in certain moments of the game, resulting in a red card for their outside hitter, Albanian Redi Bakiri.
Rieker UJS Komárno completed the 2nd Round lineup. The Slovakian side beat Austria's UVC Holding Graz 3-1 in the rematch, building it on a straight-set win from the first leg at home. Peter Mlynarčík tallied 22 points for Komárno, including four aces.
Men's CEV Champions League Volley 2022 – 1st Round, 2nd leg (today's matches):