Trentino Itas have interrupted the four-match losing streak against Grupa Azoty Kędzierzyn-Koźle (ZAKSA) in the CEV Men's Volleyball Champions League, which lasted since 2017.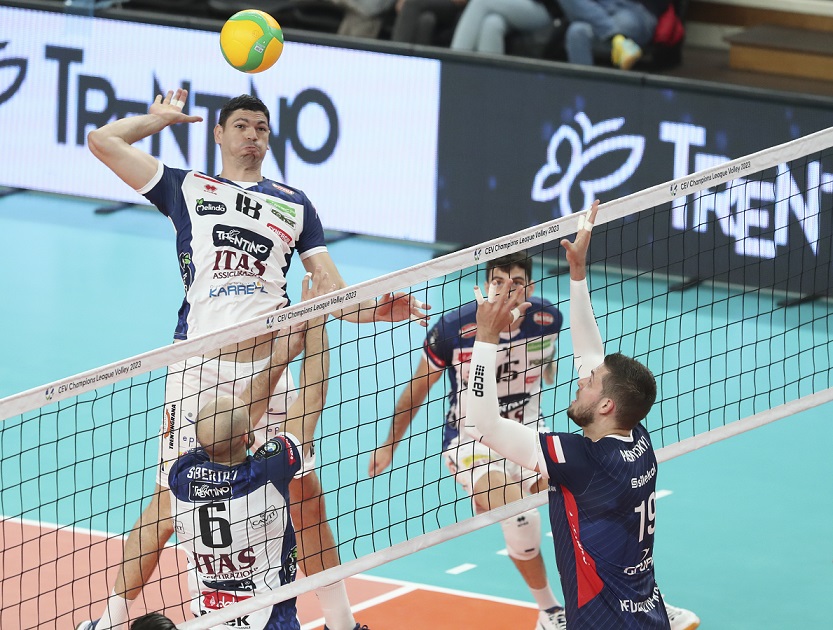 In the big match of the third round of the CEV Champions League Volley 2023 | Men within Pool D, which was also the re-edition of the last two Super Finals, Trentino enjoyed the sweet taste of revenge, beating ZAKSA 3-1 and reaching 3-0. Each of these two times in the match for the title, the Polish team prevailed. Neither side needed much motivation for this clash, but the Italians, obviously, needed to be more pumped up.
Trentino were always ahead, with the exception of the second set. The third set, however, could've changed the course of the match as ZAKSA managed to melt down the rival's 17-13 lead but lost the set in overtime. The new young phenomenon of world volleyball, Alessandro Michieletto, was on a high level on the winning side, tallying 21 points (4 aces) through high attacking rates of 71%. Łukasz Kaczmarek scored the same number of points as Michieletto, but ZAKSA are now 2-1.
Jastrzębski Węgiel have risen on time against VfB Friedrichshafen to keep the perfect record in Pool A. Although they didn't play at their optimal level, the Polish vice-champions grabbed a very valuable three points on the road in Germany and broke the rival's invincibility.
The visiting team was unable to eliminate 'casualties' in the match. Friedrichshafen won the first set 25-18 and were close to taking the second set as well. Mark Lebedew's guys had 23-21 then they had six set points but failed to convert them all. The Frenchman Stéphen Boyer was Jastrzębski's hero today, pouring in 29 points, being especially effective in the mentioned second set. He served 4 aces. Jakub Popiwczak had 70% reception (10 digs, 40% excellent). Michał Superlak top-scored for Friedrichshafen with 16 points. Serb Aleksandar Nedeljković made 6 blocks, while his fellow countryman had 91% reception (11 digs, 1 error, 45% excellent).
With the maximum result with the minimum effort, Sir Sicoma Monini Perugia took the third victory in as many games. In Germany, in Pool E, the Italian vice-champions beat the hosts SWD powervolleys Düren 3-0 (25-17, 25-23, 25-21). The 15th success this season out of the same number of matches in all competitions of the 'Block Devils' came after their head coach Andrea Anastasi fielded mostly backups.
Ukrainian Oleh Plotnytskyi grounded 14 points for Perugia, including 4 aces. Chilean Sebastián Gevert scored 11 points for powervolleys.
CEV Champions League Volley 2023 | Men – group stage, Round 3, today's matches: