The Netherlands recovered from a two-set deficit against France in the night in which Nimir Abdel-Aziz broke the FIVB Volleyball Nations League record for points in a single match.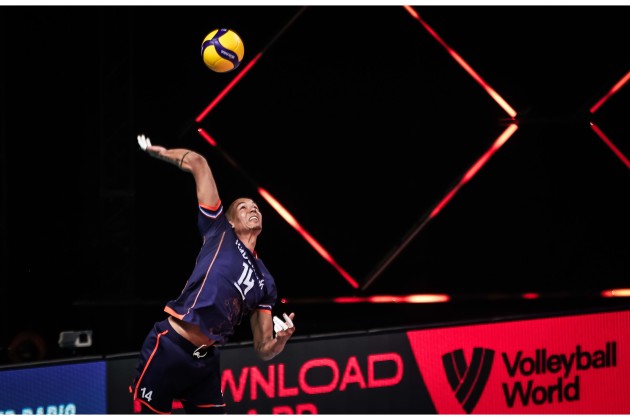 The Netherlands put an end to its own four-game losing streak in the 2021 Men's VNL. No matter with which roster it competes, France rarely allows rivals to come back from 0-2 so the success of 'Oranje' on Day 10 can be considered quite noteworthy. They were led to it by supersonic Nimir Abdel-Aziz, who poured in 43 points (including 4 aces) to set the new single-game scoring record of the competition. The previous record was held by Chinese Jiang Chuan (37 points in the maiden edition, in 2018) also made against 'Les Bleus'. Young Théo Faure excelled on the losing side with 30 points (4 aces). Nicolas Le Goff set up 4 blocks, while Jénia Grebennikov made 75 % digs (17/20).
Olympic champion Brazil beat EuroVolley runner-up Slovenia in the tie-break and hit the sixth consecutive victory in the competition: 3-2 (15-25, 25-22, 19-25, 25-13, 15-12). Thus, the 'Seleção' is still in the lead of the competition. As for Slovenia, who remained in the top 4, after beating Russia and France in the tie-break, it failed to repeat the same against Brazil. The South American powerhouse reacted on time, even though it was trampled over by the rival in the opening set. Now, Brazil has 9 wins and just one defeat. Wallace de Souza highlighted the winning side with 18 points.
2021 FIVB Men's Volleyball Nations League – Day 10 (Week 4):
Russia – Serbia 3-1 (25-23, 25-22, 22-25, 25-21)
Iran – Australia 2-3 (23-25, 22-25, 25-23, 25-18, 12-15)
Argentina – Bulgaria 3-1 (25-20, 16-25, 25-18, 25-18)
Japan – Germany 3-0 (25-18, 25-22, 25-20)
Italy – USA 0-3 (15-25, 18-25, 21-25)
Canada – Poland 0-3 (22-25, 23-25, 19-25
Brazil – Slovenia 3-2 (15-25, 25-22, 19-25, 25-13, 15-12)
Netherlands – France 3-2 (15-25, 22-25, 28-26, 25-23, 19-17)