The Croatian national volleyball team is in an excellent mood, which could be seen at the meeting with more than 100 young athletes in Zadar.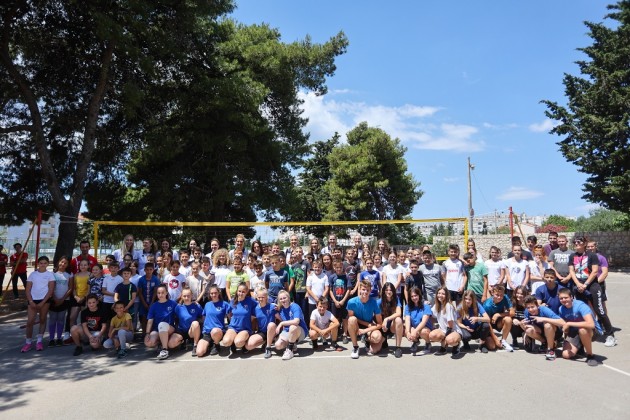 Led by coach Daniele Santarelli, captain Samanta Fabris and the national team revealed some of the secrets of success, played volleyball and took photos with young generations on the playground of the Elementary School Smiljevac in Zadar.
"We are very happy to be in Zadar again on the eve of the upcoming Final Four. There is a great atmosphere between us, which can be seen in the results. We deservedly won the Final Four and we believe that we can make a good result there, which will be an excellent overture to the European Championship, which awaits us in Zadar in August. " – Captain Samanta Fabris pointed out and added: "This gathering with young people was especially emotional for all of us. Their support and energy will give us extra strength in the games ahead. "
Among the hundred or so children were young volleyball players from Zadar, Ivanec and other Croatian cities. Marina from Zadar, visibly delighted with spending time with our national team members, said:
"I am very happy to have had the opportunity to meet these girls who are my idols. I received first-hand useful tips that I believe will help me in my further game. "
Croatian volleyball team members travel to the Final Four of the Golden European League to be played on June 19 and 20 at the OZK Arena Ruse in Bulgaria on Thursday. The first game will be played against Spain, on June 19 at 5 p.m.
Rene Sain, Katarina Pavičić, Ema Strunjak, Božana Butigan, Nikolina Božičević, Laura Miloš, Lucija Mlinar, Matea Ikić, Beta Dumančić, Samanta Fabris, Martina Šamadan, Klara Perić, Lea Deak, and Dinka Kulić are participating in the gathering in Zadar and in the preparations.
You can follow all current information about the Croatian volleyball team at www.hos-cvf.hr.