In Brazil's capital of Brasília, in the match valid for Pool 1's opening day, the United States National Team proved stronger than Slovenia.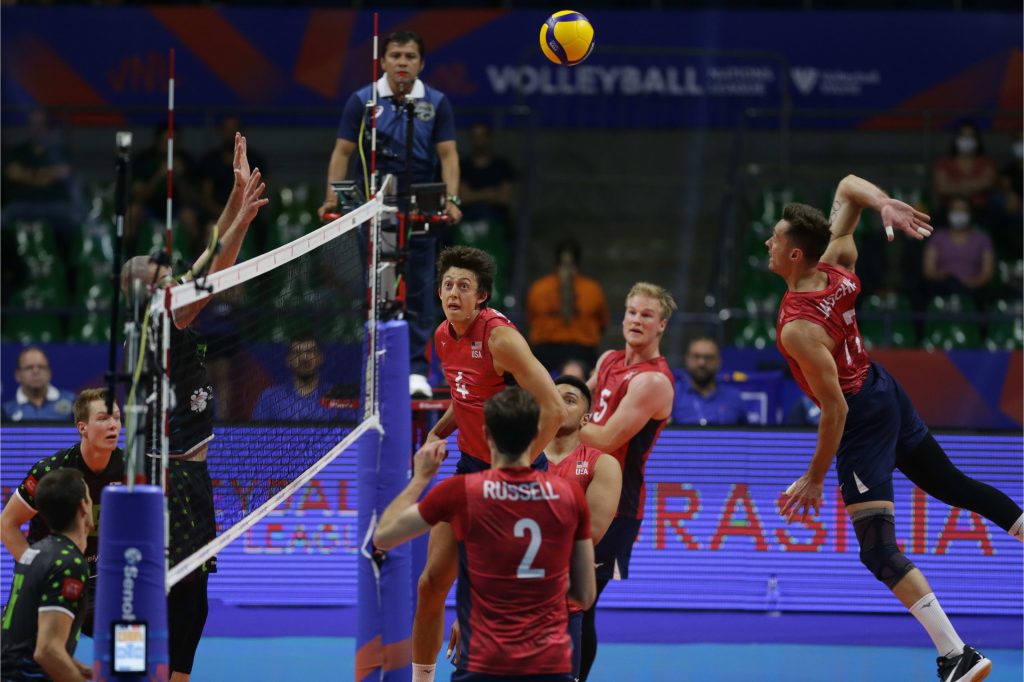 On competition Day 1 in Brasília, two national teams that are unquestionably among the favorites to win the 2022 FIVB Men's Volleyball Nations League went face to face. The United States began its campaign with a victory over Slovenia. This was only the second time in history that these two adversaries faced off in a major international competition. Last year, in a VNL Preliminary Round encounter in Italy, the team from the little European country came out on top 3-2. Today, the U.S. National Team swept Slovenia, being especially dominant in team blocking (14-4). Aaron Russell and Kyle Ensing top-scored the winning side with 14 points apiece, with the former making 4 blocks. David Smith added one block more.
In the same pool, Iran defeated China 3-1. Iran's outside hitter Morteza Sharifi led all scorers with 20 points and included 4 aces in his output. Saber Kazemi had the same number of points obtained from the service.
Serbia overcame a Bulgarian block to win the VNL opener. After a challenging opening set, the squad led by the returnee on the national team bench, Igor Kolaković, bounced back to start their campaign on a high note. In Ottawa, Canada, in Pool 2, a youthful Serbian team displayed steely nerves as they dropped the opening set against Bulgaria after losing the first 8 points, and getting blocked 8 times in the first 18 points! Adapting to the Bulgarian block (15-3 throughout the match for Bulgaria in this segment) during the match was crucial to Serbia's triumph which rallied to win 3-1 (19-25, 25-19, 25-22, 25-20) and took all 3 points. Miran Kujundžić was the top scorer on the winning side with 19 points, 6 from serving.
Led by Christian Fromm (18 points), Germany swept Pool 2 hosts Canada by which the Polish expert Michał Winiarski debuted successfully in his new role.
2022 FIVB Men's Volleyball Nations League – preliminary stage, Week 1, today's matches: