Italy prevailed over Belgium in a match that had the intensity of a playoff duel but was played within the third round of the group stage of the 2022 FIVB Volleyball Women's World Championship.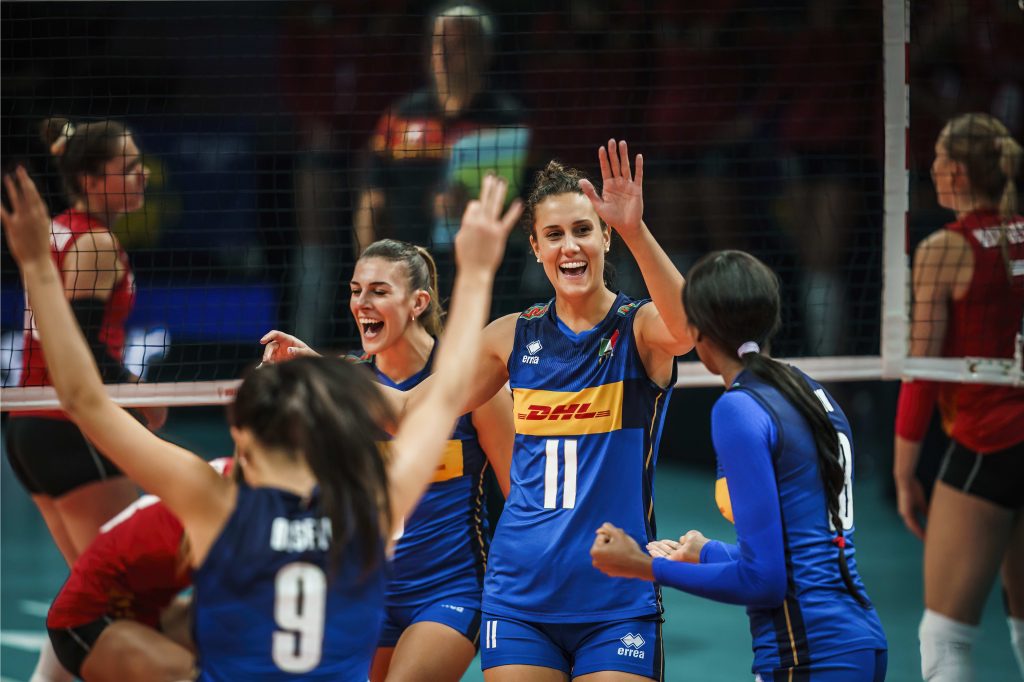 Italy made its fans tremble until the last ball of Pool A's match against Belgium in Arnhem (the Netherlands) on Day 5 of the World Championship 2022, showing that yesterday's win over Puerto Rico in three exhausting sets wasn't only a moment of weakness but implied deeper issues in their play. Belgium forced the European champions to multiply their mistakes compared to the match against the Caribbeans, and it's really unbelievable how they failed to inflict a blow on the rivals.
After taking the first set, the 'Yellow Tigers' amazingly managed to come back from 19-24 in the second set. At 26-25 in their favor, Belgium showed inexplicable naivety; their players thought they got the point and started celebrating a two-set advantage, not believing that Orro would save the ball and that De Gennaro would tip it over the net and onto the ground. A few points later, Italy leveled at 1-1. In the third set, Italy repeated Belgium's effort from the second set, catching up on 19-24 and canceling five set balls (nine set balls in the entire match) before taking the lead of 2-1 in sets. The fourth set was one-sided as disappointed Belgians won only 9 points overall.
Paola Egonu top-scored for Italy, who's at 3-0 on the charts, with 31 points, including 4 aces, but had only 26.79% attack. Anna Danesi was huge in blocking with 7 stuffs. Britt Herbots scored 28 points on the losing side, while Marlies Janssens had 6 blocks.
The co-hosts, Poland, have returned home from the Netherlands for their second match in the competition. In Gdańsk, Stefano Lavarini's team presented an excellent performance against Thailand, which resulted in a confident victory of 3-0 in Pool B. Interestingly, all sets ended at 25-17. The Asian side obviously used up all of its arsenal in its opening match against Turkey.
Magdalena Stysiak was Poland's most prominent player today, scoring 26 points, 8 of which came from the block. Pimpichaya Kokram scored 11 points for Thailand.
Led by Sharon Chepchumba (18 points), Kenya swept Cameroon in the African derby within Pool A to earn their first win in the tournament. Simone Bikatal put down 11 points on the losing side.
2022 FIVB Volleyball Women's World Championship – Preliminary Phase, Day 5: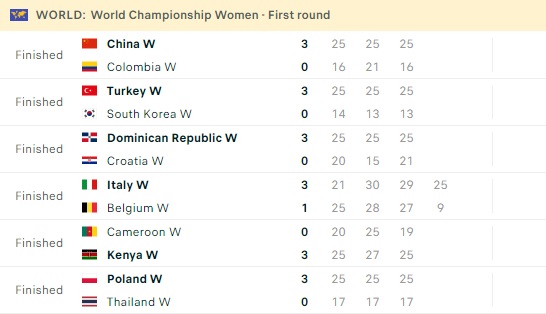 Standings