In the return matches of the German Bundesliga playoff, SWD powervolleys Düren and United Volleys Frankfurt achieved victories and with a total score of 2-0 in the series advanced to the semifinals.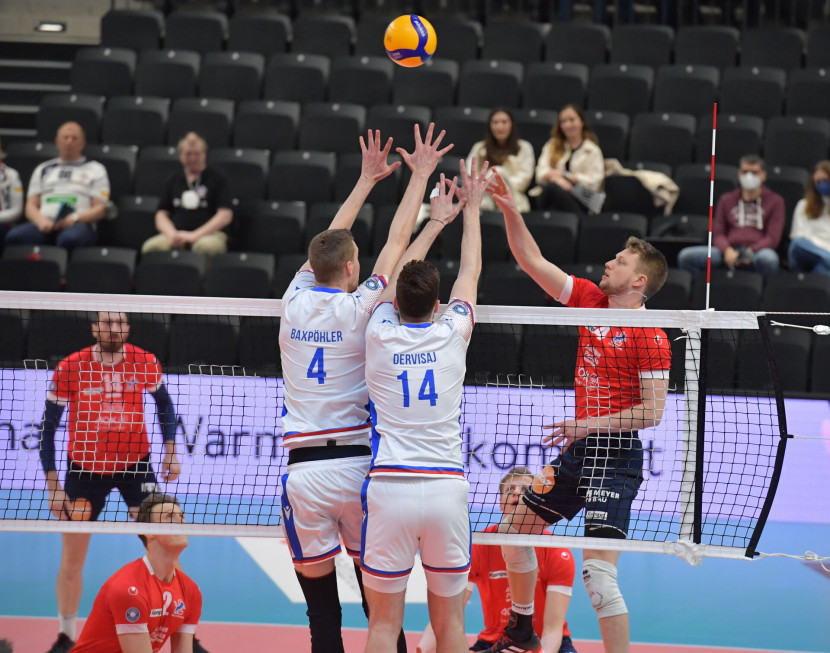 SWD powervolleys Düren celebrated with a convincing performance against Netzhoppers KW 3-1 (25-15, 18-25, 25-15, 25-14), while United Volleys Frankfurt defeated hosts, SVG Luneburg in a dramatic match 3-1 (25-23, 22-25, 26-24, 25-23).
After the third match that will be played on March 26 in Ulm between VfB Friedrichshafen and WWK Volleys Herrsching, we will get the fourth semifinalist of the playoffs of the German Bundesliga.
1st Bundesliga – Playoffs – Quarterfinals
March 12, 2022 (1st game 0-1)
VfB Friedrichshafen – WWK Volleys Herrsching 2-3 (25-17, 29-31, 26-24, 19-25, 10-15) – stats
March 13, 2022 (1st game 1-0)
United Volleys Frankfurt – SVG Luneburg 3-0 (26-24, 27-25, 25-19) – stats
March 18, 2022 (2nd game, 1-1)
WWK Volleys Herrsching – VfB Friedrichshafen 0-3 (16-25, 20-25, 25-27) – stats
March 19, 2022 (2nd game, 0-2)
HELIOS Grizzlys Giesen – Berlin Recycling Volleys 1-3 (25-22, 14-25, 21-25, 11-25) – stats
March 20, 2022 (1st game. 1-0)
SWD powervolleys Düren – Netzhoppers KW 3-0 (28-26, 25-19, 25-21) – stats
March 24.2022. (2nd game, 0-2)
SVG Luneburg – United Volleys Frankfurt 1-3 (23-25, 25-22, 24-26, 23-25) – stats
Netzhoppers KW – SWD powervolleys Düren 1-3 (15-25, 25-18, 15-25, 14-25) – stats