In the fourth round of the German Women's Bundesliga this weekend, leading teams SSC Palmberg Schwerin and Allianz MTV Stuttgart faced fierce competition but managed to maintain their undefeated streak with hard-fought victories in five-set matches.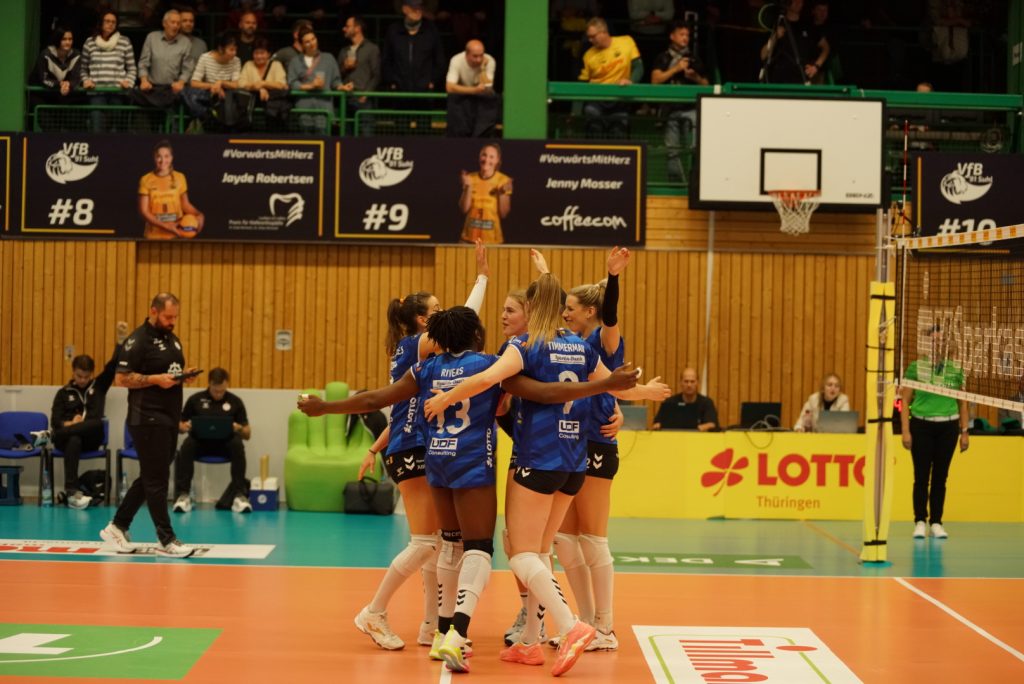 In a nail-biting showdown, VC Wiesbaden and SSC Palmberg Schwerin clashed on the court. The match stretched to a dramatic tiebreak, ending 19-21 in favor of Schwerin after five grueling sets (14-21, 25-19, 18-25, 25-18, 19-21). With the home team ahead and under the leadership of Headcoach Benedikt Frank, they reached five match points in the final set but couldn't seal the deal. Despite the commendable performance by the underdogs from Hesse, supported fervently by 1,488 spectators, Schwerin emerged victorious. The joy was palpable, especially considering the Schwerin team, led by Headcoach Felix Koslowski, faced the setback of losing winger Linda Bock towards the end of the fourth set after she contributed an impressive 19 points. Nova Marring from the Netherlands, clinching the MVP title with 13 points, and Wiesbaden's Izabella Rapacz from Poland, bouncing back to secure a remarkable 25 points, were the standout performers.
Allianz MTV Stuttgart faced a tough battle in Suhl. VfB Suhl LOTTO Thüringen defended strongly, but in the end, Stuttgart emerged victorious. The final score was 2-3 in favor of Stuttgart with sets reading (17-25, 25-22, 17-25, 28-26, 9-15). Marie Hänle from VfB Suhl LOTTO Thüringen topped the match's scorecard with 25 points. Meanwhile, Maria Segura Palleres from Allianz MTV Stuttgart showcased her prowess, tallying 18 points.
1st Bundesliga – Round 4
USC Munster vs. Ladies in Black Aachen 0-3 (17-25, 23-25, 18-25)
VC Wiesbaden vs. SSC Palmberg Schwerin 2-3 (14-21, 25-19, 18-25, 25-18, 19-21)
SC Potsdam vs. VC Neuwied 77 3-0 ( 25-16, 25-13, 25-14 )
VfB Suhl LOTTO Thüringen vs. Allianz MTV Stuttgart 2-3 (17-25, 25-22, 17-25, 28-26, 9-15)
Rote Raben Vilsbiburg vs. Dresdner SC 1-3 (17-25, 25-19, 21-25, 18-25)