At the Croatian Volleyball Championship for juniors, held in Zadar and Bibinje, the title of champion was won by the volleyball players of OK Split, while the best team in the men category was OK Ribola Kaštela. The Croatian Championship gathered 7 junior women's teams and 6 junior men's teams, and the matches were played in the Višnjik hall and the Stjepan Radić Elementary School.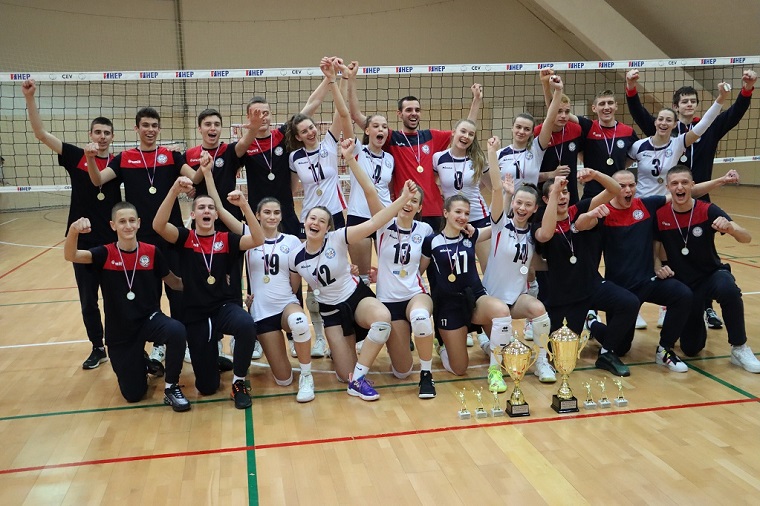 In the women finals, OK Split defeated the team of HAOK Mladost and thus showed the final superiority at the Championship over the second-placed Mladostašice. The third place went to the team HAOK Rijeka CO. Mirjana Milić awarded the brightest medals to the Croatian champions, Sandra Baturina awarded silver medals and Frane Žanić was awarded bronze medals.
"I congratulate the girls for doing the finals at a very high level. Although the match was difficult, the girls were concentrated all the time, which was shown by the result 3: 0. He fought for every point in the entire final. " – pointed out after winning the championship the coach of OK Split Tomislav Karaula and concluded: "In the last 15 months as a club we have won the junior cadet, cadet and junior championships. Working with young people is visible, and that will affect our senior team in the future. "
In the men finals, OK Ribola Kaštela team took a total of five victories in the tournament, including the one in the last match over the MOK Mursa- Osijek. Kaštela showed excellent game, strength and quality worthy of the winner. The second place went to the team of MOK Mursa – Osijek, and the third place in the tournament was taken by the team of MOK Rijeka. Željko Jurčević awarded medals to Croatian champions, Duško Živković awarded silver medals and Tomislav Ćošković awarded bronze medals.
"I congratulate the boys on defending and winning the title of Croatian junior champions. I am satisfied with how they coped with the role of favorites and in the end, they showed that on the field with only one set lost in the tournament. Once again, we showed and proved quality work in the volleyball school, even though we were without the first lift Ivo Mustapić at the tournament. " – said after the game the coach of OK Ribola Kaštela Ivan Andromak.
MVP – Marija Tabak (OK Split), Nikola Jureta (OK Ribola Kaštela)
BEST SETTER – Kate Lijić (OK Split), Lovro Maglica (MOK Rijeka)
BEST LIBERO – Tia Kovčo (OK Split), Kristijan Bečeheli (MOK Mursa-Osijek)
BEST MIDDLE BLOCKER – Aurora Papac (HAOK Mladost), Bruno Barač (OK Ribola Kaštela)
BEST RECIVER – Ana Burilović (OK Split), David Šmital (MOK Mursa-Osijek)
BEST SPIKER – Mara Štiglić (HAOK Rijeka), Ante Kulušić (OK Ribola Kaštela)