Hekimoğlu Global Connect Travel BVİ made it difficult for Arkas Spor to fight for first place in the remainder of the regular part of the ongoing season in the Turkish Men's Volleyball Championship.
In Round 16 of the 2022-23 AXA Sigorta Efeler Ligi Metin Görgün Sezonu, Hekimoğlu came back from 0-2 to 3-2 against Arkas and staged a huge upset, ending their rival's run of six consecutive triumphs. The disparity in the rankings didn't stop the competition's newcomers from fighting for nearly two and a half hours (2:26) and finally breaking one of the biggest favorites for the title. Following the victory, Hekimoğlu rose from 12th to 11th place in the standings, while Arkas remained third but now trailed leaders Halkbank by seven points.
Hekimoğlu were pushed toward success by Canadian Bradley Gunter, who notched 25 points, including four aces. Ugur Kılınç made four blocks. Russian Aleksey Nalobin had 78% attack (14/18), while Metin Durmuş had 74% reception (19 digs, 2 errors, 0% excellent). As for Arkas, Gunter's fellow countryman and a colleague from the national team, Nicholas Hoag, scored 28 points. American Daniel McDonnell recorded seven blocks.
2022-23 AXA Sigorta Efeler Ligi Metin Görgün Sezonu, regular season, Round 16: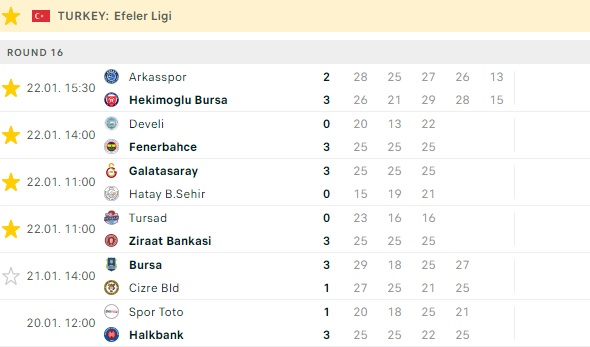 January 23:
Tokat Belediye Plevne – Altekma