Following the opening two matches of the 2023 CEV Men's Volleyball Champions League yesterday, four more matches of the group stage were played on Wednesday.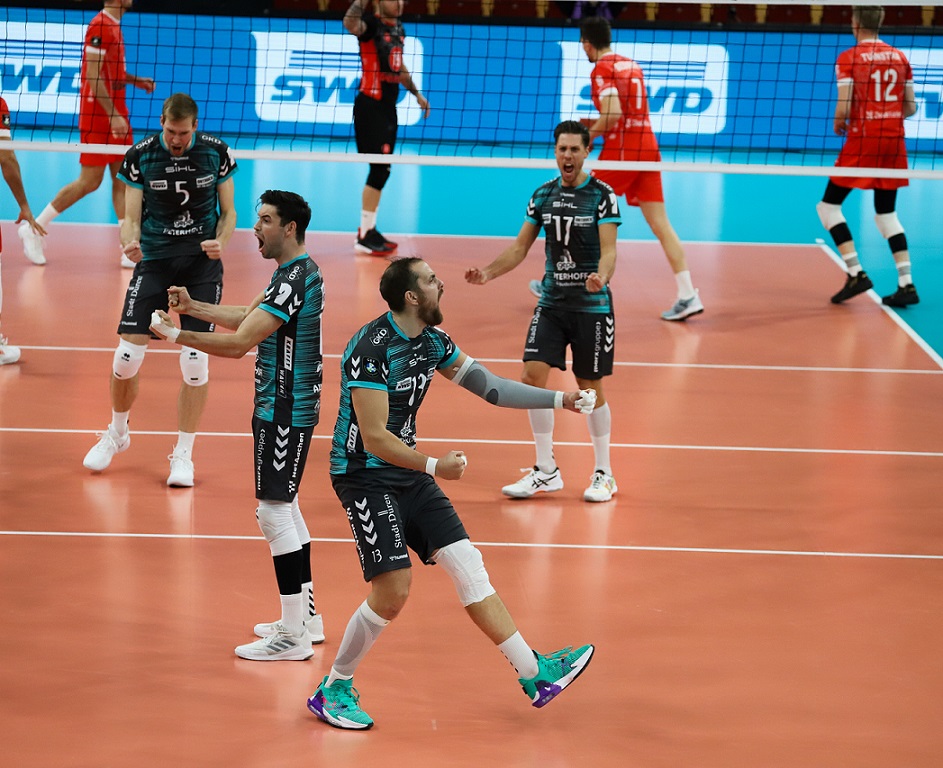 The Round 1 of the group stage of the CEV Champions League Volley 2023 | Men resumed today. The biggest surprise was made by SWD powervolleys Düren, who defeated Turkey's Ziraat Bank Ankara in Pool E. German side, which entered the Champions League as the third-placed team in the last Bundesliga, defeated a two-time Efeler Ligi defending champs 3-1, in sets 25-23, 25-18, 21-25, and 25-16. With a brave game at their Arena Kreis, the home team registered a great triumph after 119 minutes of play by dominating in the service (12 aces). Experienced Chilean opposite, Sebastián Gevert, scored 21 points (4 aces) on the winning side.
In the Pool C match against one of the favorites to take the trophy in the competition, Cucine Lube Civitanova, the Portuguese side of Sport Lisboa e Benfica was so close to causing a sensation. 'The Eagles' led 2-0 in sets but missed the opportunity to put the Italian titleholders on their knees at the end of the match. The hosts made the difference in the tie-break: 15-13. In the absence of Ivan Zaytsev, the Puerto Rican-American international Gabriel 'Gabi' García scored 22 points (4 aces) for the SuperLega club.
In the second match of Pool E, Italy's Sir Sicoma Monini Perugia recorded the expected clear victory against Slovenia's ACH Volley Ljubljana. After 73 minutes of play in its famous PalaBarton hall, Andrea Anastasia's team triumphed 3-0, in sets of 25-19, 25-16, and 25-19. Ukrainian Oleh Plotnytskyi scored 16 points.
Grupa Azoty ZAKSA Kędzierzyn-Koźle (ZAKSA) didn't start their title defense campaign confidently but earned three points. The Polish PlusLiga winners last season barely broke the resistance of Czech ČEZ Karlovarsko in the first match of Pool D. In the end, it was 3-1 for the home team. The guests threatened in the fourth set, when they took a 20-17 lead, but failed to tie the match at 2-2. Łukasz Kaczmarek scored 27 points for ZAKSA, while Ukrainian Dmitrii Pashitskii made 6 of the team's 18 blocks.
CEV Champions League Volley 2023 | Men – Round 1, group stage, today's matches: