China set off the competition in the fourth week of the 2021 FIVB Women's Volleyball Nations League in Rimini (Italy) with the best possible roster.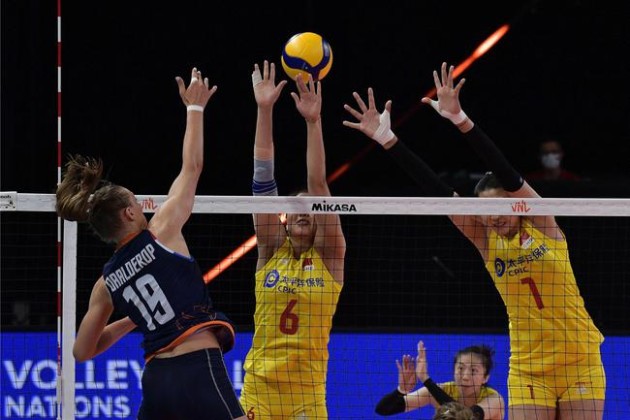 The Olympic champion China got reinforced in the continuation of the 2021 Women's VNL as several pillars were added to the roster, such as Zhu Ting, Li Yingying… It was visible already in the first match in which the Asian powerhouse swept The Netherlands (Round 10), ending the rival's four-game winning streak: 3-0 (25-18, 25-18, 33-31). The 'newcomer' to the squad, Li Yingying, top-scored China with 19 points. Yan Ni set up 4 blocks.
Canada broke its own losing streak of 3 games. Led by Kiera Van Ryk (21 points) and Jennifer Cross and Emily Maglio (4 blocks apiece), the North American side downed Serbia in 4 sets.
The Dominican Republic inflicted the 8th defeat to Italy and, at the same time, extended its own run to 3 games. Bethania De La Cruz stood out for the squad from the Caribbean with 19 points, while Brenda Castillo was on a high level in defense (76 %; 22/25).
Brazil established absolute control over Poland to jump to second place in the charts. With tranquility, but far from playing the perfect match, the team commanded by Zé Roberto beat the rival by 3-0 (25-22, 25-20, 25-23) mostly thanks to Gabriela Guimarães 'Gabi' (15 points).
2021 FIVB Women's Volleyball Nations League – Round 10 (Week 4):
Russia – South Korea 3-0 (25-23, 25-17, 25-17)
Thailand – Germany 3-1 (24-26, 25-21, 25-21, 25-16)
Japan – Turkey 3-1 (25-17, 25-20, 17-25, 25-19)
USA – Belgium 3-0 (25-9, 26-24, 25-20)
China – Netherlands 3-0 (25-12, 25-18, 33-31)
Canada – Serbia 3-1 (25-21, 22-25, 25-21, 25-18)
Dominican Republic – Italy 3-1 (25-21, 25-19, 22-25, 26-24)
Poland – Brazil 0-3 (22-25, 20-25, 23-25)