The US National Team confidently storms to the Final Four of the 2021 FIVB Women's Volleyball Nations League.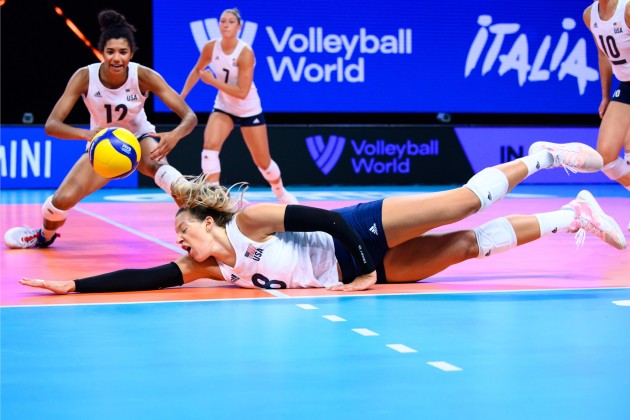 In just two days, the US National Team defeated two major contenders for the Final Four of the 2021 Women's VNL, clearing the way for itself for the semifinals. Beating Turkey in the last round of Week 4 by a 3-1, the team commanded by Karch Kiraly kept the status of the invincible team, reaching 12-0. Jordan Thompson (19 points, including 5 blocks) led the quintet of players with double digits for points on the winning side. Jordyn Poulter made 84.6 % reception (12/13).
China was perfect in Week 4, achieving the third win in as many games, all coming with the roster that was reinforced with missing pillars. Tonight, the Olympic champion swept Italy. Li Yingying stood out in China with 19 points.
2021 FIVB Women's Volleyball Nations League – Day 12 (Week 4):
Belgium – Japan 1-3 (25-23, 22-25, 21-25, 21-25)
Russia – Serbia 3-0 (25-8, 25-17, 25-23)
Netherlands – Dominican Republic 1-3 (23-25, 25-23, 28-30, 22-25)
Germany – Poland 3-0 (25-23, 25-20, 25-23)
China – Italy 3-0 (25-19, 25-11, 25-19)
South Korea – Canada 3-2 (15-25, 25-18, 27-29, 25-20, 21-19)
Brazil – Thailand 3-0 (25-11, 25-14, 25-10)
USA – Turkey 3-1 (25-21, 23-25, 25-15, 25-14)