The Russia National Team ended Serbia's winning streak in the 2021 FIVB Men's Volleyball Nations League in Rimini (Italy).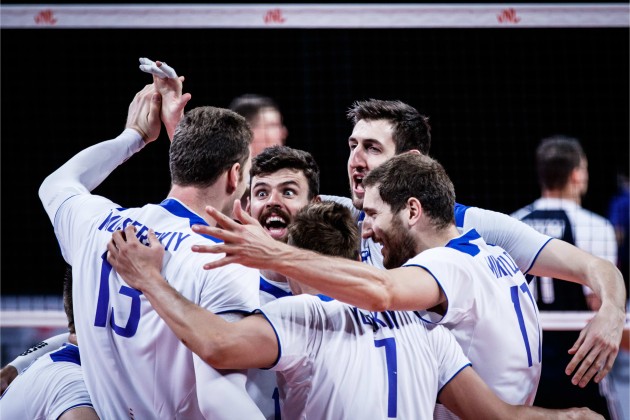 Serbia had a chance to open the doors of the semifinals wide by beating Russia but 'Zbornaya' was on a high level at the start of the fourth week (Day 10) of the 2021 Men's VNL: 3-1 (25-23, 25-22, 22-25, 25-21). This was a match for the Russians from the category of do-or-die, in which they reacted perfectly, recorded the sixth win, and remained in contention for the semifinals. Maxim Mikhaylov pulled 'Zbornaya' to success with 23 points. Ilyas Kurkaev had 4 blocks.
Australia made Iran's way to the semifinals rocky by prevailing in a thrilling five-setter. It was far from a quality match given nearly 70 errors were committed combined. Trent O'Dea top-scored 'Volleyroos', who achieved their maiden win in the VNL 2021, with 17 points but through only 28.9% efficiency. He included 4 blocks in his scoring output, just as Nehemiah Mote.
2021 FIVB Men's Volleyball Nations League – Day 10 (Week 4):
Russia – Serbia 3-1 (25-23, 25-22, 22-25, 25-21)
Iran – Australia 2-3 (23-25, 22-25, 25-23, 25-18, 12-15)
Argentina – Bulgaria 3-1 (25-20, 16-25, 25-18, 25-18)
Japan – Germany 3-0 (25-18, 25-22, 25-20)
Italy – USA 0-3 (15-25, 18-25, 21-25)
Canada – Poland, 6 p.m. CET
Brazil – Slovenia, 7:30 p.m. CET
Netherlands – France, 9 p.m. CET