Along with Poland, the defending champion and Russia, which is the host of the competition, after the end of the last continental championship, all other participants in the FIVB 2022 Men's Volleyball World Championship are also known.
The newly crowned European champion Italy, along with the runners-up, Slovenia secured the last two places. A few days earlier, Iran defeated Japan to defend the Asian continental title, and both teams qualified for the World Cup, while Tunisia and Cameroon had also succeeded through the African Championship. Earlier, Brazil and Argentina secured their places through the South American Championships, and Puerto Rico and Canada through the NORCECA Championships.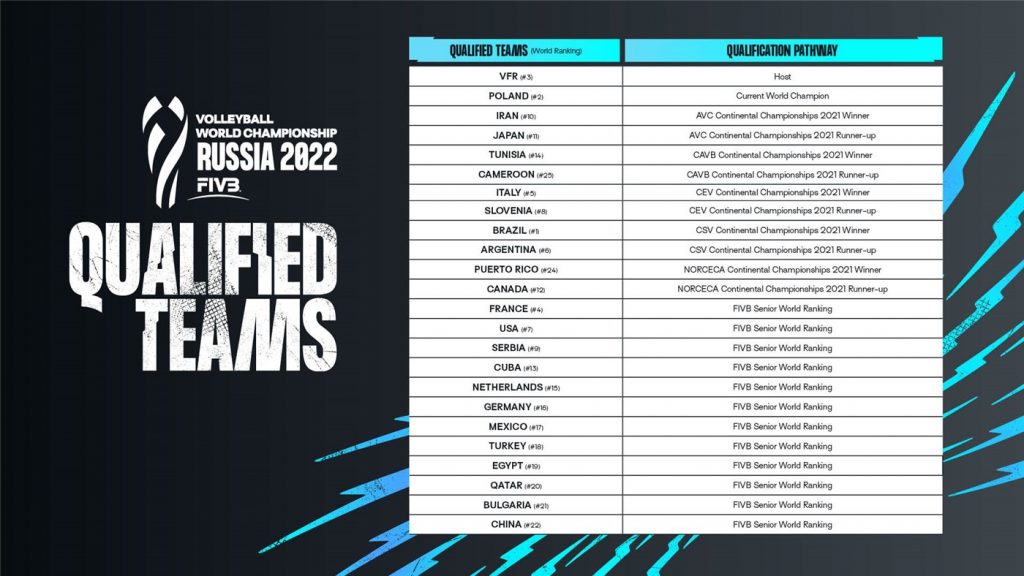 The other 12 teams are filled with national teams from the FIVB World Rankings – 12 best among teams that have not already qualified in other ways.
Teams that qualified:
Host: Russia
Current world champion: Poland
AVC Continental Championship 2021: Iran, Japan
CAVB Continental Championship 2021: Tunisia, Cameroon
CEV Continental Championship 2021: Italy, Slovenia
CSV Continental Championship 2021: Brazil, Argentina
NORCECA Continental Championship 2021: Puerto Rico, Canada
FIVB Senior World Ranking: France, USA, Serbia, Cuba, Netherlands, Germany, Mexico, Turkey, Egypt, Qatar, Bulgaria, China