The Croatian men's volleyball team finished this year's performance at the European Championships in 14th place, passing for the first time since participating in the second round of the competition.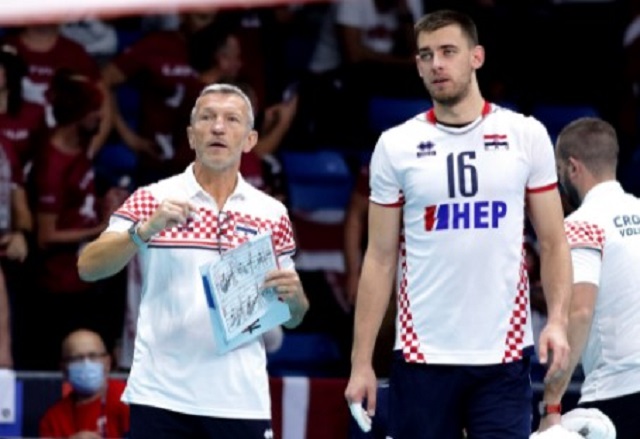 There, unfortunately, by the will of the draw, in the eighth-finals they were welcomed by their Slovenian neighbors, the current vice-champions from 2019 and this year's Euro finalist.
The Croats lost in a good, real men's game with 1:3, and what is still being retold, except for the great move of captain Tsimafei Zhukuoski, who masterfully saved one ball, knocking down the cameraman, which is the most viewed shot from this Euro, are also ace bomb services with which Leo brought celebration in the third set in the finish.
"I was really 'hot hands', very motivated, and the hall suited me. In fact, I've been in good shape all summer, especially in the server, and in that game, some things also coincided, such as a perfect throw of the ball and two of them that deceived rivals with the help of the net" – says Leo, who after literally a few days off on Friday he set off for Russia, where he opens his new club chapter.
But first a little more about the national team.
"I am satisfied with the whole tournament and our games, I think we have fulfilled the goal and we have nothing to regret. Personally, I am somehow sorry that I failed a little in the game against Estonia, but fortunately, there was Ivan Raič who played the match to the end at the top level. We really played superbly against Latvia and Slovakia, and we couldn't expect more than an honorable defeat with the French Olympic champions and the Slovenian European vice-champions. In any case, this was a long and hard summer in terms of preparation and competition, but – it paid off. I think that we have all become a shade better and that we all go to clubs as ready as possible. Tired, but also ready. We did our best and it paid off."
This was a new Croatian national team under the leadership of coach Emanuele Zanini, with several experienced players, but also a new young, wave of volleyball players coming.
"At this European Championship, 10 out of 14 players from our national team have never participated in such strong competition, and that speaks volumes about our team. But in addition to our country, we also promoted ourselves there, and I think all the players raised their price after this. As far as young people are concerned, there are some, they have shown themselves, but they must not stop only at this level. They have to get even stronger in their careers because they are needed by the national team and their clubs. Young Hanžić and Mitrašinović are going to Italy, which in my opinion is very good for their volleyball development and progress. Even if we had more such talents, it would be even easier in the future, although it was clear that there are no problems in the future for the national species."
Leo is already making himself available to a new club, Russian Nizhny Novgorod.
"This is my first Russian adventure after I have changed a dozen clubs in Europe and Asia so far. I can't wait to get to know the club up close, and I won't have to wait long for the matches, because we already have four cup matches next week, and the Russian championship starts at the beginning of October. Last year, they entered the playoffs, among the eight best teams, they were eliminated from the club Fakel Novy Urengoy, where our Tsimafei Zhukouski plays, so this year the goal is to at least repeat it," says 27-year-old 203 cm tall opposite Leo Andrić in the end, A man from Karlovac who has already made an impressive foreign career. Let's just mention that in 2018, he was named the best server, scorer, spiker and proofreader of the silver European League, MVP, and that he is in the 2019/20 season. was also the best server in the Korean League. Just so you know, these services from the Euro did not come just like that, by chance…"