A home ground turns out to be a mere illusion for both 2021/22 Italian Men's Volleyball Championship contenders in the face-off between Leo Shoes PerkinElmer Modena and Sir Safety Conad Perugia.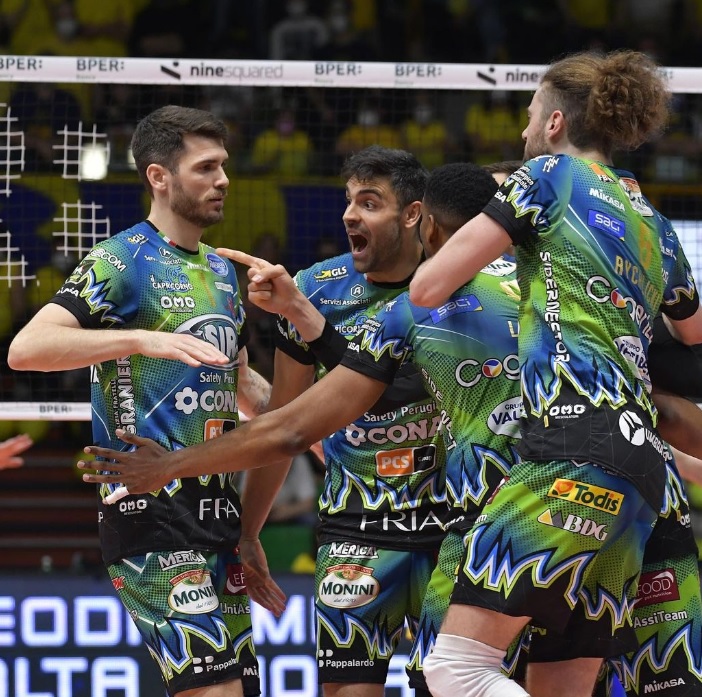 No.1 Perugia didn't tremble in a sold-out PalaPanini in Game 4 of the 2021/22 SuperLega Credem Banca playoff semis, brought out character, and once again broke No.4 Modena at their hall (just like Modena did twice in front of Perugia's fans). Thus, the 'Block Devils' tied the series at 2-2 and postponed the verdict of the semi-finals to the decisive Game 5 at home.
In a match of incredible intensity and in which Yoandy Leal returned to the Modena squad after a reduction of the disqualification (but didn't spend his usual number of minutes on the court). Perugia first went a set down, then ahead 1-2 and in the tie break, found the energy to fight and ultimately win. Cuban-Polish Wilfredo León highlighted Perugia with 20 points. Argentine Sebastian Solé made 5 blocks.
No.2 Cucine Lube Civitanova appears as a completely different team in the last week than before that. On the road in Game 4 against No.3 Itas Trentino, the champions earned a 4-set victory to tie the semi-final series (2-2). Being two matches down, Gainlorenzo Blengini's men managed to rise up with two triumphs in a row, bringing home factor back in their favor for a decider.
Cuban Robertlandy Simón stood out the most on the winning side with 20 points (5 blocks).
2021/22 SuperLega Credem Banca – playoff semi-finals, Game 4: