The 18th round was marked by several surprises that brought excitement towards the end of the regular season. Defeats of Novara and Chieri, important success of Perugia against Casalmaggiore, and victory of Conegliano against Cuneo.
Today's 18th round ends with the match between Scandicci and Pinerolo.
Now the place among the top eight is being chased by several teams, Bergamo, who took 3 points from Novara, Busto by defeating Vallefoglia 3:0 and Il Bisonte Firenze after the victory over Chieri.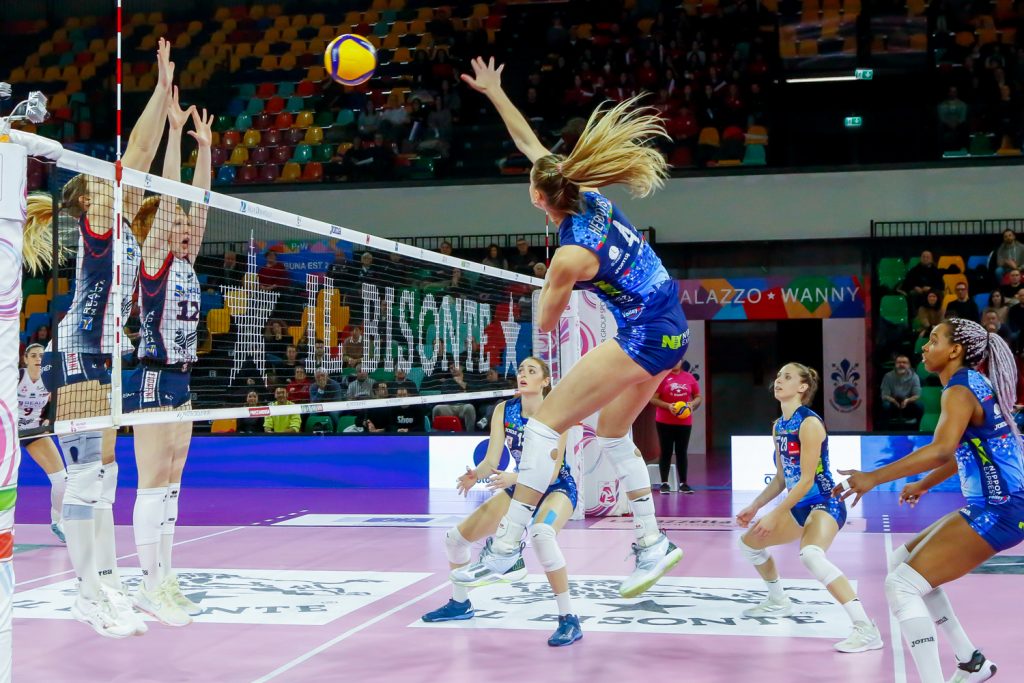 February 11, 2023
CBF Balducci Hr Macerata vs Vero Volley Milano 0-3 (14-25 23-25 21-25))

February 12, 2023
Il Bisonte Firenze – Reale Mutua Fenera Chieri 3-0 (25-16 25-14 26-24)
Volley Bergamo 1991 – Igor Gorgonzola Novara 3-1 (25-21 25-20 14-25 25-19)
Prosecco Doc Imoco Conegliano – Cuneo Granda S.Bernardo 3-0 (25-19 25-21 25-14)
E-Work Busto Arsizio – Megabox Ond. Savio Vallefoglia 3-0 (25-18 27-25 25-12)
Bartocini-Fortinfissi Perugia – Transportipesanti Casalmaggiore 3-0 (25-18 25-20 25-22)
February 13, 2023
Savino Del Bene Scandicci – Wash4green Pinerolo

STANDINGS
| | | | | |
| --- | --- | --- | --- | --- |
| | Team | V | L | PT |
| 1 | Prosecco Doc Imoco Conegliano | 17 | 1 | 49 |
| 2 | Vero Volley Milano | 14 | 4 | 42 |
| 3 | Savino Del Bene Scandicci | 13 | 4 | 42 |
| 4 | Igor Gorgonzola Novara | 14 | 4 | 38 |
| 5 | Reale Mutua Fenera Chieri | 12 | 6 | 36 |
| 6 | Trasportipesanti Casalmaggiore | 9 | 9 | 28 |
| 7 | Volley Bergamo 1991 | 9 | 9 | 28 |
| 8 | E-Work Busto Arsizio | 8 | 10 | 25 |
| 9 | Il Bisonte Firenze | 8 | 10 | 24 |
| 10 | Megabox Ond. Savio Vallefoglia | 7 | 11 | 20 |
| 11 | Cuneo Granda S.Bernardo | 6 | 12 | 17 |
| 12 | Bartoccini-Fortinfissi Perugia | 4 | 14 | 12 |
| 13 | Wash4green Pinerolo | 2 | 15 | 7 |
| 14 | Cbf Balducci Hr Macerata | 2 | 16 | 7 |
SERIE A1 – Italy