Itas Trentino has emerged victorious in Game 5 of the SuperLega Credem Banca Playoff Finals, earning the highly coveted title of Italian Champion.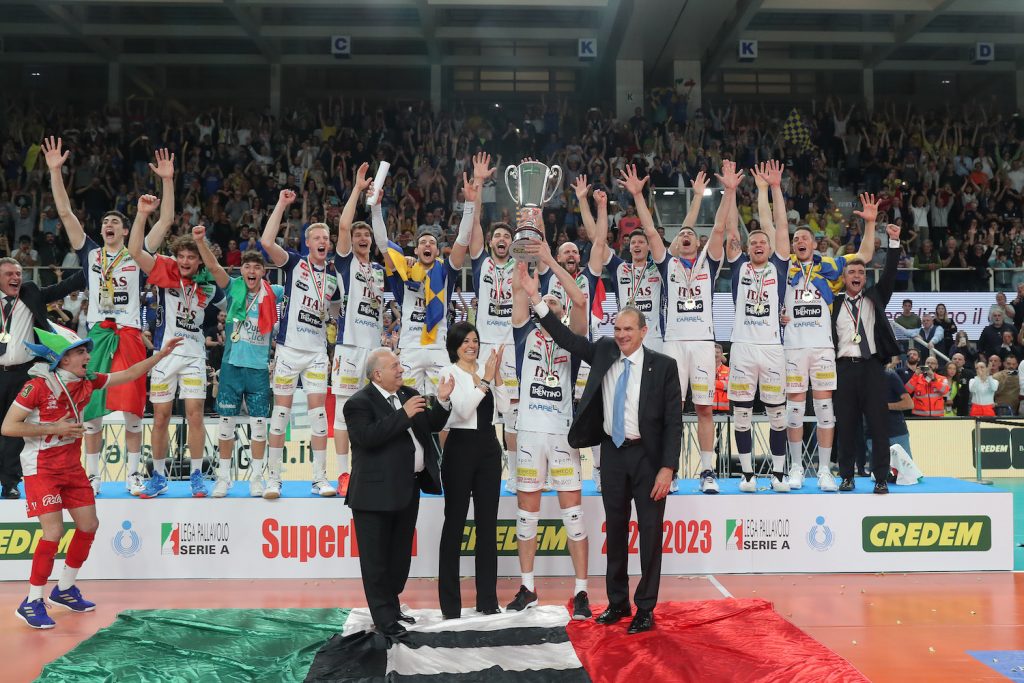 This remarkable achievement marks their fifth championship in the team's history, arriving eight years after their previous triumph in the 2014/15 season. Under the guidance of coach Angelo Lorenzetti, Itas Trentino experienced a mix of ups and downs throughout the Finals. After a successful Game 1 on their home turf, they faced a setback in Game 2, played in Civitanova. However, they quickly regained their dominance in Game 3 with a convincing 3-0 victory. Despite Civitanova's triumph in Game 4 with a four-set win, the final decisive match favored Itas Trentino, as they emerged victorious once again with a three-set win, reminiscent of Game 3.
The victory has brought immense joy to the team and its supporters. Coach Angelo Lorenzetti celebrates his fourth Scudetto victory, further solidifying his successful career. Matey Kaziyski adds another championship to his name, securing his fifth title. Meanwhile, Podrascanin secures his fourth Scudetto, and Nelli claims his second championship. It is worth highlighting that all the other players on the team have now become "Italian Champions" for the very first time.
Itas Trentino – Cucine Lube Civitanova 3-0 (25-20, 25-20, 25-19) – (Series 3-2)
Itas Trentino: Sbertoli 3, Lavia 11, D'Heer 4, Kaziyski 13, Michieletto 17, Podrascanin 7, Nelli 1, Laurenzano (L), Dzavoronok, Pace, Cavuto, Berger, Lisinac, Depalma, Coach: Lorenzetti
Cucine Lube Civitanova: De Cecco 1, Yant Herrera 11, Anzani 5, Nikolov 12, Bottolo 7, Chinenyeze 6, Gottardo, Balaso (L), D'Amico (L), Garcia Fernandez 1, Ambrose, Diamantini, Sottile, Coach: Blengini
Kaziyski: 2007/08, 2010/11, 2012/13, 2014/15, 2022/23 (Trento);
Podrascanin: 2011/12, 2013/14 (Lube), 2017/18 (Perugia), 2022/23 (Trento);
Nelli: 2014/15, 2022/23 (Trento).
Trentino Volley (07/08, 10/11, 12/13, 14/15, 22/23)