One of the best members of the Croatian national team, 25-year-old Marko Sedlaček, a 202 cm tall receiver, who has already played in Italy, France and China in his career after leaving Mladost, is this season's main player of the Turkish ultra-popular club Galatasaray from Istanbul, which remembers Croats well, because Croatian internationals Tomislav Ćošković and Inoslav Krnić also played there.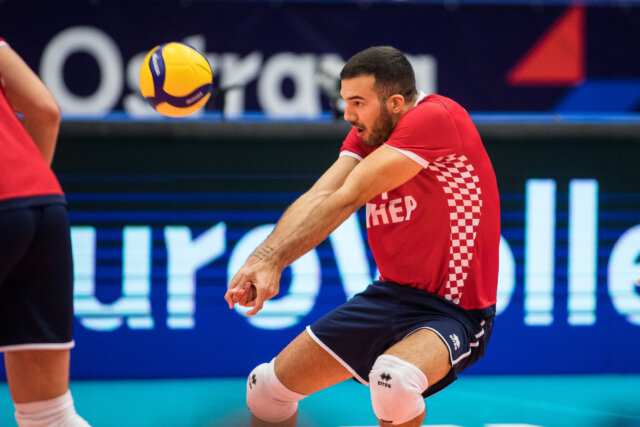 Marko was convinced of Galatasaray's popularity in Turkey immediately upon his arrival in Istanbul, because almost all the doors open to him at the mention of the club he plays for.
"It's over, because there is another institution in Turkey, Fenerbahce, so if you run into one of their 'stubborn' fans, the situation changes completely," said Marko with a smile, who is doing another good season in a strong league like Turkey.
Although, it didn't go well for him.
"We played the first game against last year's champions Ziraat and won 3-0, so the opening of the dream season, but the ligament of the shooter's finger broke and it was uncertain what to do next. Given that they have great ambitions, that the eternal derby against Fenerbahce soon followed, we somehow patched up with the bandages, but I played with great pain. The second option was surgery, but we somehow agreed to do it without radical medical intervention. I have to say that they were very cooperative in the club, I had a lot of discounts on training, which are easier than they were in Italy, but it was just important for them to be ready for the games ", says Marko, who spent the last few days in Zagreb.
"They gave me three days off to check with my doctors. Everything is fine with the injury now, I play normally, of course, with a bandage. We are doing well in the Championship, we are at the top among the top four, which is the goal, because this season the playoffs are played with only four teams. Of course, there are also high ambitions in the domestic Cup."
Galatasaray also plays in the CEV Cup, where they reached the 16th final, as well as Mladost, which has Monza, Marko's former club, as rivals, while Galatasaray will play against German Duren.
"We hope to go further through the Germans, last year Galatasaray was third in the CEV Cup, but what is primarily for us are domestic competitions. As for Monza, I think they are the favorites against Mladost, it is not disputable, but also, it is a great opportunity for all Mladost to try out in two matches against a club from probably the strongest league in the world. They have nothing to lose here, they can only gain, so they have to enjoy these matches, without any workload. It was great for me at Monza, just what I needed. A relatively quiet suburb of Milan, a great environment for the progress of a young player, a strong league, a top club president with a vision… "
And the Turkish league is getting stronger every year…
"There are no weak games, there are 6-7 top clubs with great players, and the rest of the league is better than in previous seasons. They invest a lot in sports, top foreigners come and all this can be seen in the progress of the league and their national team. My club coach is also the coach of Turkey, so I really came to the right environment. It is true that there is less training than in Italy, but it is already a question of climate and mentality. In any case, I am very satisfied with how the season is developing, "said Marko Sedlaček, who recently got engaged to his girlfriend Ivo and is thinking about a future wedding, but also about the Croatian national team, which, he says," is always available.