Following the first semifinal clash between Ok Markur Maribor and ACH Volley Ljubljana, Calcit Kamnik took the first step towards the MEVZA League finals with a 3-1 (25-22, 25-22, 17-25, 26-24) victory over Austria's SK Zadruga Aich/Dob on their home field.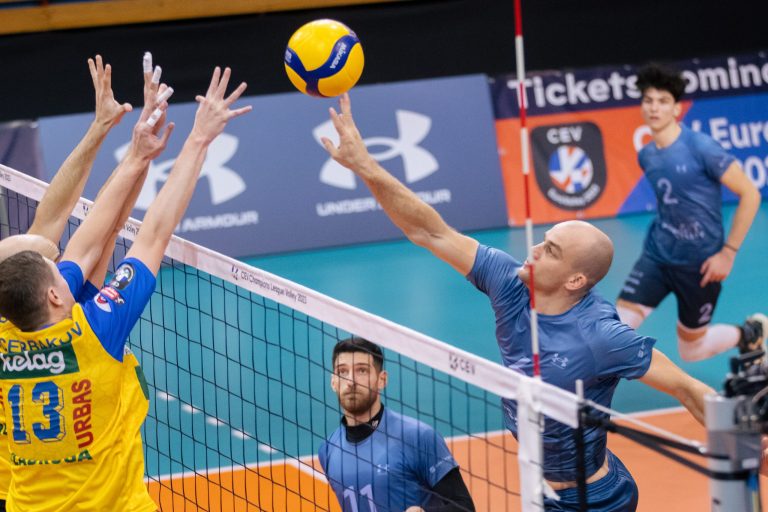 SK Zadruga Aich/Dob: Raineer, Pitakoudis 6, Kopschar, Steiner (L), Jordanov 16, Kružkov 10, Kratz, Kaibald 18, Szabo 8, Krassnig, Kitzinger, Madjunkov, Butler 5, Gacs. Coach: Zoran Kedačič.
Calcit Volley: Planinšič 2, Mujanović 1, Vinkovič, Lazar, Klobučar 8, Košenina (L), Arsenoski, Okroglič 8, Sosa Sierra 21, Mitrašinović 10, Aponza Carabali 7, Pavlović 9. Coach: Jurij Žavbi.
The Slovenian runners-up have already faced Aich/Dob three times this season, winning all three matches, with two of them being decided in a tie break.
MEVZA LEAGUE – Semifinals – First Leg
February 22, 2023
OK Merkur Maribor (SLO) (4) – ACH Volley Ljubljana (SLO) (1) 1-3 (20-25, 25-21, 15-25, 20-25)
February 23, 2023
SK Zadruga Aich/Dob (AUT) (3) – Calcit Kamnik (SLO) (2) 1-3 (22-25, 22-25, 25-17, 24-26)
MEVZA LEAGUE – Semifinals – Second Leg
March 1, 2023
ACH Volley Ljubljana (SLO) (1) – OK Merkur Maribor (SLO) (4)
Calcit Kamnik (SLO) (2) – SK Zadruga Aich/Dob (AUT) (3)