In a historic victory, Argentina defeated Brazil 3-0 (25-19, 29-27, 25-22) on the final day of the 35th Men's South American Championship held at the Geraldão Gymnasium in Recife, capturing the coveted gold medal. This marks Argentina's first time atop the continental podium since 1964, despite having secured 19 silver medals in the past. Marcelo Méndez's team achieved a significant milestone by defeating the host nation, which had won 32 consecutive titles.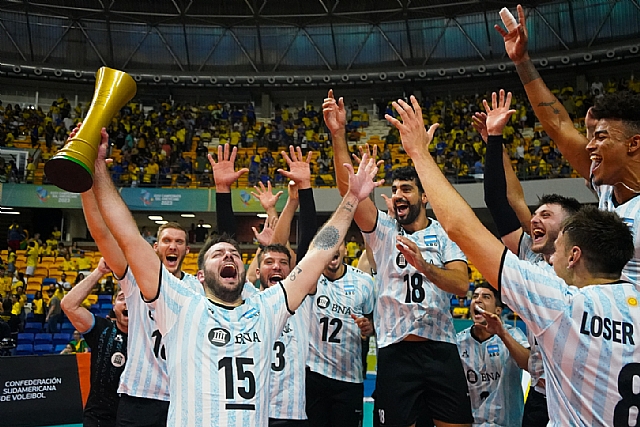 Brazilian Alan was the top scorer of the match with 19 points, while Argentina's Conte contributed 15 points to the victory. The individual awards saw Alan named as the best opposite, joined by fellow Brazilians Lucarelli (outside hitter) and Thales (libero). The standout team included Argentina's De Cecco (setter) and Zerba (middle blocker), Chile's Parraguirre (outside hitter), and Colombia's Carabalí (middle blocker). Argentina's Luciano Vincentin was named MVP of the competition.
In the same tournament, Chile's Red Warriors secured fourth place, concluding their participation with a 3-1 victory (25/17, 23/25, 25/16, 25/21) over Peru. The match's top scorers were Chileans Vicente Parraguirre (23 points) and Tomás Parraguirre and captain Dusan Bonacic, both with 15 points. Ureña led Peru with 14 points. The Chilean team concluded the tournament with three losses (to Brazil, Argentina, and Colombia) and one victory against Peru.
FINAL STANDINGS: 1st – ARGENTINA 2nd – BRAZIL 3rd – COLOMBIA 4th – CHILE 5th – PERU
The victory marks a turning point for Argentina, breaking Brazil's long-standing dominance and indicating a shift in the balance of power in South American volleyball.