We are pleased to announce the release of a new book about volleyball, "11 Ways to Get an Edge: Lessons from My Journey to Help You Become a Mentally Bulletproof, Joyful, and Educated Volleyball Beast". The book written by the still active player Cody Kessel enriched the volleyball world in a segment that is not sufficiently represented in our sport. The book is currently available in pdf format and can be purchased online.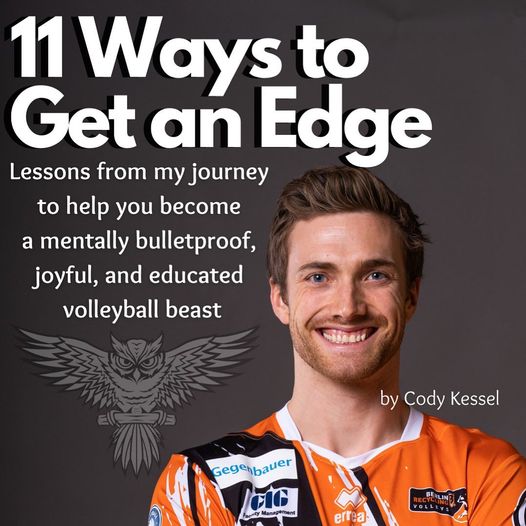 Author Cody Kessel about the book:
"In this book, I recap my volleyball journey and then dive into the eleven most valuable takeaways from my career.
If you're a volleyball coach or player I guarantee you will learn something to help you get an edge on and off the court. I cover the mental game, practice, competition, skill development, mindset, confidence, energy, technique, and more. If you're a fan I guarantee you will learn something new from the inside story about my journey in this sport we love.
The life lessons I have learned from this journey also apply to anyone— not just sports fans.
Introduction
How does a scrawny kid from Colorado Springs, Colorado, an area with very little boys volleyball, who finished DEAD LAST at Nationals at age 13, go on to be an All-American at Princeton, play professionally in Europe for 8+ seasons, and even fulfill a childhood dream by competing for the Men's National Team on the biggest stages in the world?
I'm that 31-year-old kid now—and I am still on the journey of becoming the best player and person I can be. I want to share some of my knowledge with you so that you can also become the best you can be.
I have more than 18 years of experience as a competitive player and a wealth of global volleyball experiences and knowledge. This book is full of lessons to help you live your volleyball journey with more understanding, more joy, more love, and more excellence than ever before.
I want you to experience the best of what this great global sport has to offer—and unlock opportunities you never knew existed.
I took care to select the most valuable ideas that are going to help YOU become an unstoppable volleyball beast who also loves the game.
These are the ideas that most set me up for success. That gave me an edge.
Looking back, a big reason I found success is that I am a great learner.
I have also been exposed to a tribe of incredible mentors, teachers, athletes, and coaches along the way. These mental models and lessons helped me become the 1% of the 1%.
I know they can help you maximize your potential and become the best player (and person) you can be.
Let's dive in! "
For more information about the author and the book, as well about purchase options, click HERE.