Barueri Volleyball Club beat Sesc RJ Flamengo in Round 3 of the 2022–23 Brazilian Women's Volleyball Championship and extended the rival's negative sequence.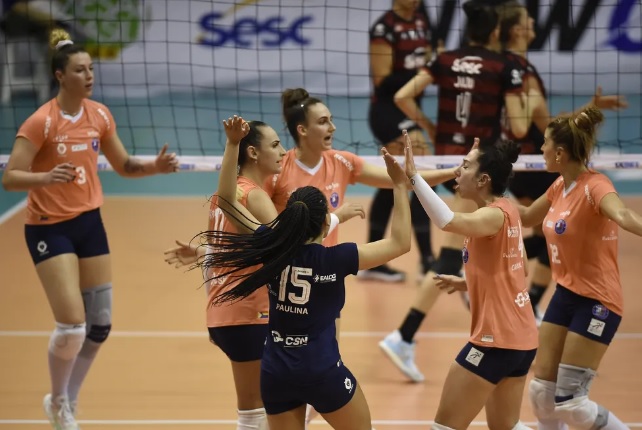 In the duel between the two renowned Brazilian experts, Bernardo Rezende 'Bernardinho' and José Roberto Guimarães 'Zé Roberto', the team commanded by the current 'Seleção' head coach took the best by 3 sets to 1 away in Rio and conquered the first victory in four games in the 2022-23 Superliga 1XBET Feminina.
On the one hand, there was Bernardinho's Sesc Flamengo, the league's record title holders (12 titles), who had lost their first two games in the competition. On the other hand, there was Zé Roberto's Barueri, who had suffered three defeats in the season so far. In the 'duel of the desperate', who had the last laugh was Barueri, after which they returned home with a difficult, but imposing victory, partials of 25-21, 19-25, 28-26, and 27-25.
Maiara Basso was Barueri's big name in the triumph on Friday night. The outside hitter, who's acting as the opposite hitter, ended the match with 25 points (4 blocks) and was chosen as the best player of the match. But when it was time to receive the Viva Vôlei trophy (trophy given for the match's MVP in Superliga), the surprise – the prize was gone! At the end of the match, following the Superliga protocol, the teams were lined up waiting for the award to be handed over to Maiara. But those responsible for the awards didn't find the trophy at the time of the awards. The Brazilian federation (CBV) hasn't commented on the incident. Maiara, however, wasn't without the trophy. Later, the award was delivered at the hotel where Barueri was staying in Rio de Janeiro. A physiotherapist from the São Paulo team received Viva Vôlei and took it to the player. Maiara has been Barueri's big name in the competition. The player, who started to act as an opposite after Ana Paula Borgo discovered a tumor in her stomach, is the top scorer in the Superliga. She added 100 points in the competition so far.
2022-23 Superliga 1XBET Feminina – regular season, Round 3:
November 13:
Gerdau Minas – Unilife-Maringá
December 13:
Energis 8 São Caetano – ABEL Moda Vôlei