Even without its captain Maja Ognjenović, Serbia recorded the fourth maximum victory at the 2021 CEV Women's Volleyball European Championship.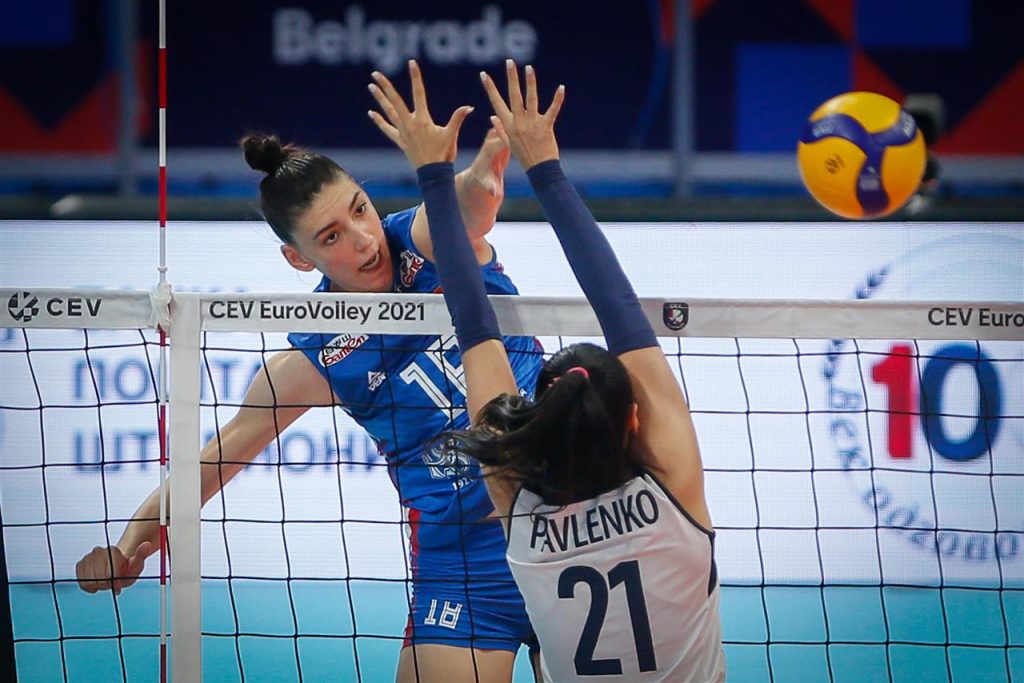 Tijana Bošković simply shone in the match against Azerbaijan in Pool A in Belgrade, showing her top class once again. With 24 points (72 % of effectiveness in the attack) in the first two sets, she brought the pool host Serbia a capital advantage and then left the court by the decision of head coach Zoran Terzić to rest. Without the help of captain Maja Ognjenović, who got a day off, the European and world champion recorded its fourth maximum victory at the CEV Women's EuroVolley 2021 – 3-0 (25-17, 25-20, 25-19). Serbia awaits the last match of the preliminary stage with Russia (secured a spot in the playoffs) with 4-0 (12 points) and a set ratio of 12-0, which guarantees it a top spot in the pool chart.
Belgium has earned its ticket for the eighth-finals by beating Bosnia and Herzegovina with a 3-0 (25-23, 25-19, 25-15) in the same pool. Marlies Janssens top-scored the 'Yellow Tigers' with 20 points, seven of which she took from the block and four from the service line.
The only dilemma regarding the spot in the playoffs from Pool A is whether France or Bosnia and Herzegovina will claim the last ticket.
Pool A
Bosnia and Herzegovina – Belgium 0-3 (23 – 25, 19 – 25, 15 – 25)
Azerbaijan – Serbia 0-3 (17 – 25, 20 – 25, 19 – 25)
Pool B
Germany – Greece 3-0 (25 – 20, 25 – 17, 25 – 22)
Bulgaria – Czech Republic 3-0 (26 – 24, 25 – 12, 25 – 19)
Pool C
Hungary – Croatia 1-3 (19 – 25, 25 – 21, 17 – 25, 21 – 25)
Switzerland – Slovakia 1-3 (25 – 21, 14 – 25, 19 – 25, 22 – 25)
Pool D
The Netherlands – Turkey 0-3 (21 – 25, 21 – 25, 20 – 25)
Romania – Finland 1-3 (25 – 18, 22 – 25, 22 – 25, 22 – 25)