USA extended their winning streak at the 2021 FIVB Women's Volleyball Nations League to eight matches, remaining the only undefeated team in the competition and still on full points with their sweep of Korea.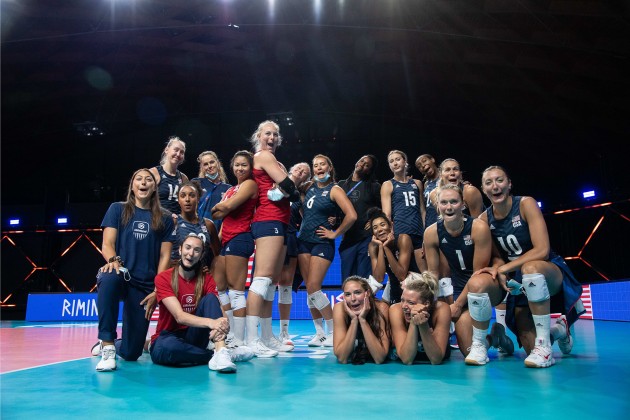 Washington Haleigh was the top scorer of the game with 15 points.
"I think we played very well as a unit, we were really patient, we were still ironing out the kinks. I think we did a really good job and also a great service pressure. I think that having aggressive serve and trying to keep them out of the system was key. They have a lot of good arms that are fast so as soon as we were getting over the net and seal the better it was," says Haleigh Washington.
The Netherlands twice came from a set down to outlast Poland in five and stay very much in the race for a ticket to the Final Four.
Nika Daalderop was the top scorer in the Dutch team with 18 points, Anne Buijs and Elles Dambrink had 17 points each. In Poland, Malwina Smarzek scored 19 and Martyna Lukasik 18 points.
FIVB women's Volleyball Nations League, day 8:
Russia – Thailand 3-1 (25-14, 18-25, 25-14, 25-20)
Turkey – Dominican Republic 1-3 (22-25, 21-25, 25-23, 17-25)
Canada – Japan 0-3 (16-25, 16-25, 15-25)
China – Serbia 1-3 (22-25, 18-25, 25-20, 22-25)
South Korea – USA 0-3 (16-25, 12-25, 15-25)
Poland – The Netherlands 2-3 (25-21, 23-25, 25-22, 21-25, 9-15)
Germany – Italy 0-3 (25-21, 25-19, 25-11)
Belgium – Brazil 0-3 (18-25, 16-25, 17-25)