Brazil and Japan joined the USA in the Final Four of the 2021 FIVB Women's Volleyball Nations League.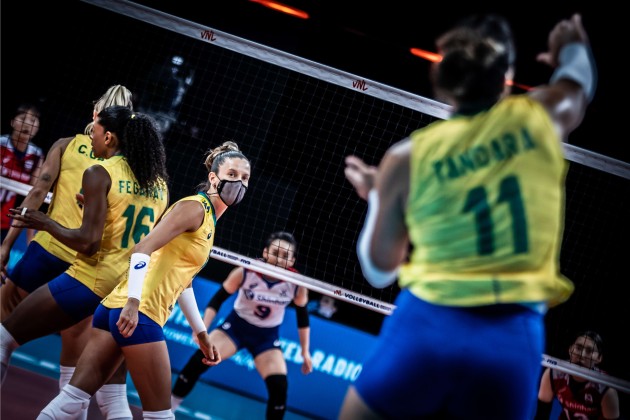 Finishing Week 4 with a perfect record awarded the USA a spot in the Final Four of the 2021 Women's VNL. That is not a novelty but something else is: two more national teams joined the squad commanded by Karch Kiraly in the semifinals after today's Week 5 openers.
Brazil beat South Korea to reach the 11th triumph (2 defeats) in the competition, the fourth in a row, and qualified for the knockout stage. Led by Tandara Caixeta, Fernanda Rodrigues 'Fê Garay' (13 points apiece) and Camila Brait (78.6 % digs; 12/14), the 'Seleção' was confident against  South Korea by 3 sets to 0, partially 25-18, 25-23, and 25-18. With this result, Brazil settled in the second position in the table, only behind the US.
Japan is now placed third after earning a come-from-behind victory over the Dominican Republic. The Asian side had a difficult time as it was trailing two sets and 5-7 in the tie-break. Japan improved to 10-3 and, which is more important, it secured a spot in the semifinals. Mayu Ishikawa scored the most on the winning side with 24 points, while Haruyo Shimamura set up 4 blocks. Ai Kurogo made 89.7 % digs (27/29). Brayelin Martínez top-scored the ladies from the Caribbean with 31 points.
2021 FIVB Women's Volleyball Nations League – Day 13 (Week 5):
Germany – Serbia 3-0 (25-23, 25-16, 25-21)
Japan – Dominican Republic 3-2 (18-25, 24-26, 25-22, 25-15, 15-11)
Thailand – Belgium 1-3 (23-25, 24-26, 25-23, 15-25)
South Korea – Brazil 0-3 (18-25, 23-25, 18-25)
China – Russia 3-0 (25-18, 25-23, 25-16)
Poland – USA 0-3 (27-29, 27-29, 14-25)
Canada – Italy 0-3 (18-25, 20-25, 20-25)
Turkey – Netherlands, 9 p.m. CET