What a Game! In the second match of the Del Monte Coppa Italia SuperLega semifinals, we witnessed a spectacular display and had the opportunity to see all of the fantastic aspects that volleyball has to offer.
Milano posed a significant challenge to Trento, but with the exceptional quality and leadership skills of Matey Kaziyski, as well as the energy of Michieletto and the rest of the team, Itas Trentino was able to turn the game around and advance to the Grand Final.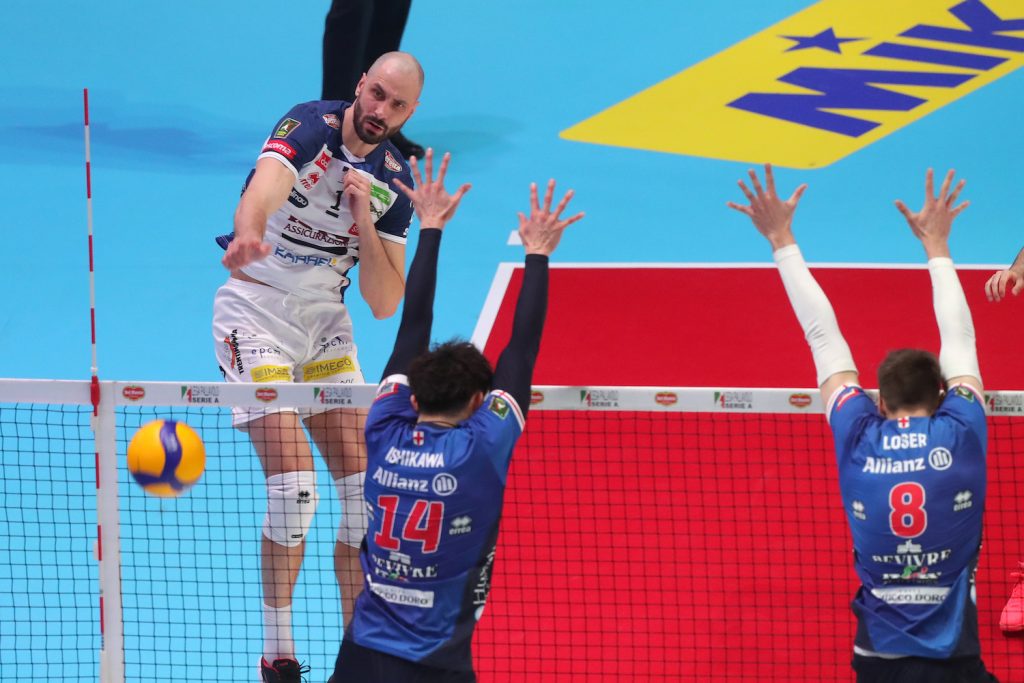 Itas Trentino emerged victorious over Allianz Milano with a score of 3-2 (33-35, 22-25, 25-19, 25-16, 15-9) despite being down 0-2. It's worth noting that Juki Ishikawa, one of Milano key players, sustained an injury during the third set, which undoubtedly affected Allianz Milano's level of play.
The top scorer of the match was Matey Kaziyski, who scored 27 points, closely followed by Alessandro Michieletto with 23 points. Juki Ishikawa scored 21 points for Milano, despite playing less than three sets due to an injury. Osniel Melgarejo added 15 points and Jean Patry 14 points for Milano.
Itas Trentino – Allianz Milano 3-2 (33-35, 22-25, 25-19, 25-16, 15-9)
Itas Trentino: Sbertoli 5, Lavia 11, D'Heer 3, Kaziyski 27, Michieletto 23, Podrascanin 9, Nelli 2, Lisinac 1, Dzavoronok 1, Laurenzano (L), Pace, Berger, Cavuto, Depalma, Coach: Lorenzetti
Allianz Milano: Porro 2, Ishikawa 21, Loser 13, Patry 14, Mergarejo Hernandez 15, Vitelli 6, Piano 3, Ebadipour 6, Pesaresi (L), Lawrence, Colombo, Bonacchi, Fusaro, Coach: Piazza
Del Monte Coppa Italia SuperLega – Semifinals
February 25, 2023
Sir Safety Susa Perugia vs Gas Sales Bluenergy Piacenza 0-3 (28-30, 20-25, 22-25)
Itas Trentino – Allianz Milano 3-2 (33-35, 22-25, 25-19, 25-16, 15-9)