Gas Sales Bluenergy Piacenza lifts the Italian Cup trophy! In the final held in Rome, Piacenza won in three sets over Trento.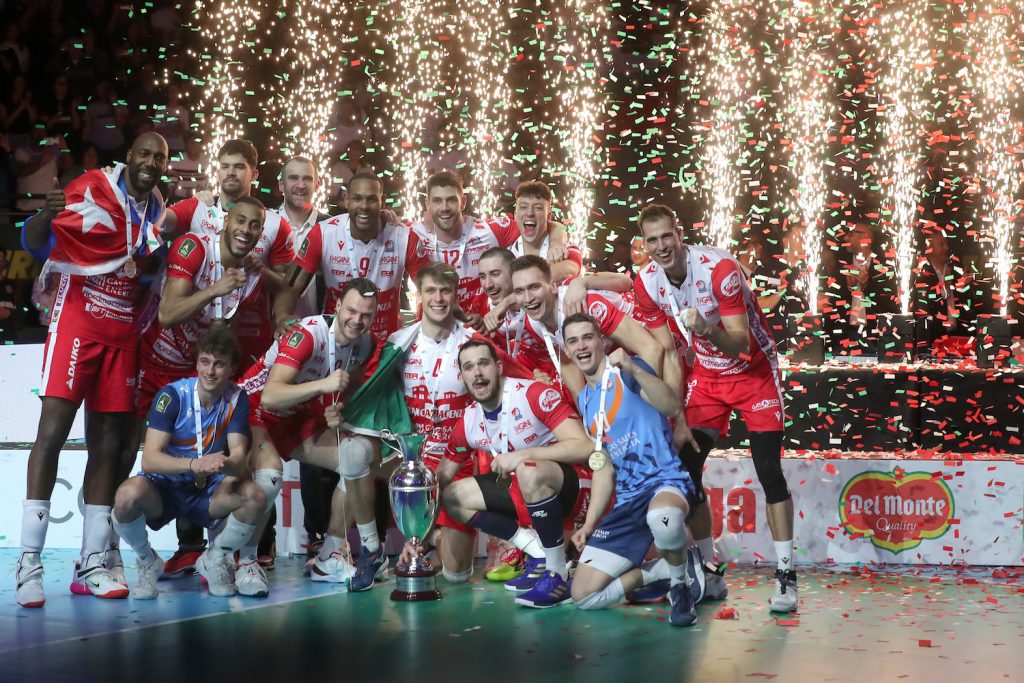 Gas Sales Bluenergy Piacenza emerges victorious in the 45th edition of the Del Monte Coppa Italia. The team coached by Massimo Botti replicated their outstanding performance from the previous day's Semifinal.
Piacenza's hard work to build a respectable team for the season paid off as they accomplished their first goal by winning the Italian Cup. They were dominant in the final match, winning with a 3-0 (25-22 25-17 25-23) against Itas Trentino. However, Trentino seemed to have been exousted after their long and successful comeback in the semifinals against Milano and were unable to perform at their usual level in the final.
Upon arriving in Rome, Piacenza was in uncertainty about the possibility of playing Yoandy Leal who had suffered an ankle injury during the match against Civitanova, just a few days before the Final Four. Despite these reservations, Leal ultimately took the field and displayed remarkable performance. Leal was named the Most Valuable Player of the final and tallied 20 points, including an impressive 18/20 in attacks and a commendable 50% reception rate.
Despite Kaziyski leading the charge and finishing as the top scorer of the match with 21 points and an impressive 68% success rate in attacks, Trento failed to meet expectations.
Del Monte Coppa Italia – Finals
Gas Sales Bluenergy Piacenza – Itas Trentino 3-0 (25-22, 25-17, 25-23) –
Gas Sales Bluenergy Piacenza: Brizard 7, Santos De Souza 9, Simon 9, Romanò 6, Leal 20, Caneschi 7, Scanferla (L), Gironi 1, Hoffer, Basic, Alonso, Cester, Recine, De Weijer. Coach: Botti
Itas Trentino: Sbertoli 3, Lavia 7, Podrascanin 2, Kaziyski 21, Michieletto 7, D'Heer 2, Nelli 0, Lisinac 0, Dzavoronok 1, Laurenzano (L), Pace, Berger, Cavuto, Depalma, Coach: Lorenzetti