Croatian volleyball national team players got off to a great start in their clubs after the end of a long representative summer, in which they achieved extremely great results: bronze in the Final Four of the European  Golden League, then gold at the Mediterranean Games, and in the end, through uncertain qualifications, qualification for next year's European Championship, meaning they achieved the continuity of performance at the continental competition of the best volleyball countries.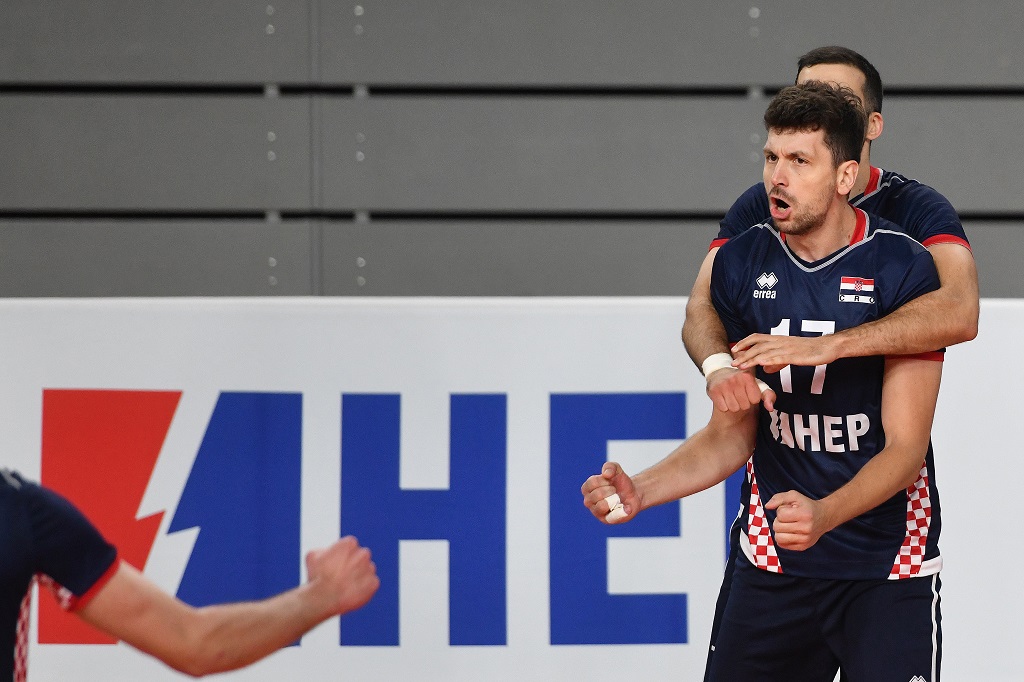 Along with Petar Đirlić, who already managed to be the MVP of the match of his Italian Top Volley Cisterna in Serie A twice, young Tino Hanžić also achieved this award in the Italian A2 league, becoming the MVP of the match with 18 points in the 3:1 victory of his Santa Croce against Cantu.
Another international player of ours and as well the MVP of the match, was Ivan Mihalj, who dominated in the triumph of his CSKA Sofia against Dobrudzha by 3:0, adding 11 points to the victory, 7 of which in the attack and 4 in the block.
For Ivan, a 211 cm tall 'middleman', who will turn 32 at the end of November, this is, if we counted correctly, the thirteenth club in his long career, which began when he arrived at the 'Dom odbojke Bojana Stranića' ( House of Volleyball ) in 2008. A career that has been going on for about 15 years, and there is no end in sight yet.
"I am not thinking about the end of my career yet, I will play as long as it gives me pleasure, and as long as my body listens to me. Just like I listen to my body, because the older and more experienced you are, the more you pay attention to rest and regeneration of your body, as well as paying attention to warming up before the match and relaxation exercises after it."
Ivan really ages ( works hard ) year by year, just like a good, fine wine, getting better and more mature. This is certainly helped by his balanced everyday life, especially his family, on which he praises great importance and of which he is very proud.
"My wife devoted herself to me and my career, as well to our daughter Ella that came along. Wherever I go, regardless of the club or country, they are with me, and that means a lot to me, that home atmosphere. For me, home is where we are together. This is the life path we have chosen, and that is fine with us, we have adapted to it."
After playing in Greece last season, he has chosen Bulgaria as his new destination.
"A new country, a new club, CSKA, was once a military and now a private club. I must say right away that I fit in very well, much better than I could have imagined. I'm not the oldest, there are three or four players older than me. Everything here is professionalized, just as it should be, so I don't have to think about anything else except training. Great teamwork, the training sessions are twice a day, and for now, everything is in the best order. We started well in the domestic league, and that's why I was the MVP in the last match. We are playing without the pressure of high expectations because last year they were fifth,  so I  believe we could make it to the 'big four'. Their long-term goal, within a few years, is to regain the primacy they once had, because they are the club with the most trophies in Bulgaria."
Speaking of Bulgaria,  Mladost, the club where he started his great international career, and to which he was always happy to return, will play the first match against Hebara Pazardžik in the third round of Champions League qualification on Wednesday, October 19. What can he tell to his former teammates from Mladost?
"I watched them in the Bulgarian Supercup, and I hope to make it to that game because it's about an hour away from Sofia. It is an older team, and very, very experienced, I guess 90% of the players have been through the Bulgarian national team. The coach is Italian Placi, the receiver is Italian Massari, the opposite  Hirsch, a German, got injured so they took Serbin Premović as a replacement, the legendary Bulgarian Salparov is the libero and there are also some Bulgarian players who have already been through the Italian league… Very, very experienced team but I believe that Mladost has a chance against them, especially since the second match will be played at ' Dom odbojke Bojana Stranića '. I know the Mladost team very well, I trained with them after I finished with the national team at the end of the summer, and before I went to CSKA. Although last year's Mladost was perhaps stronger on paper, this year they put together a respectable team. I especially liked the young Sven Jakopec, he reminded me of myself when I first came to ' Dom odbojke' ( House of Volleyball ).
Do you follow the Croatian Superleague?
"Whenever I can, I follow, I've already watched Mladost, Centrometal, Kaštela, Mursa… It seems to me that the league is getting stronger and stronger, getting better every year. The number  of quality foreigners  certainly contributes to this, because without them, unfortunately, it is not possible to progress quickly and  well enough  with such a small base as Croatia has."
You mentioned that in CSKA there are 3-4 players older than you, this is certainly a welcome change after the representative summer where you were the oldest in the team.
"It was a great summer, both in terms of results and in every other way after many years. We had a great atmosphere within the team, we worked well, the coach is excellent, and I think that the younger players have also improved a lot. A win-win situation in every way. After many years, the national team works great both on and off the field, until now something was always missing, and now the result has finally arrived. I'm already looking forward to next summer. If the coach calls me, I'm here, ready, and the most important thing for me is to feel comfortable with the coach and the team. As for the pressure, no one should impose it on us as professionals, we put it before ourselves because it is part of the sport. The desire to be as good as possible, the desire to win, the desire to prove yourself every day", said  Ivan Mihalj, the experienced and irreplaceable middle blocker of the Croatian volleyball team.